4 Effective Ways to Succeed in Your Online Course
Many mature individuals consider going back to school to either change their career or enhance their current skills sets. Going back to school can bolster their marketable skills and credentials, making them a more sought-after candidate. Without formal training or education, changing career directions would be a lot more difficult as employers are looking for candidates with specific skill sets and background.
The Benefits of Online Courses
For many professionals who are considering going back to school, it can be a difficult decision to make because of conflicting schedules. However, thanks to online courses, an increasing number of adults are choosing to go back to school through online courses, as they are finding it a much more feasible option. With a wide range of programs now being offered online, you can choose from online industrial training to accounting to business. Here are some additional advantages to online courses: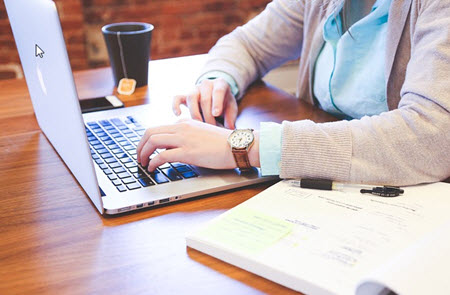 No More Commuting – If you've commuted for work or school in the past, you know how time consuming it can be, not to mention frustrating. Online courses allow you to study from the comfort of your home, without having to spend extra time waiting for the bus, or getting stuck in traffic.
Convenience – Making the decision to go back to school can disrupt your routine. Choosing to study online can help ease the transition, as you can study from literally anywhere, as long as you have your laptop and an internet connection. You can choose your hours (no more 8am lectures), and your environment.
Lower Cost – Opting to complete your program through online courses can be cheaper than studying on campus. With the commute taken out of the equation, you no longer have to spend money on bus, subway or train passes, and you'll save on gas and parking as well. Seeing as there are a plethora of courses available to you, no matter which discipline you decide to pursue, be it online technology courses or early childhood education, you can complete your certificate from your home, saving you money.
Online Experiences – Especially for those students who are looking for industrial or technical training, George Brown College is a fantastic option. Often times, these types of courses or programs are considered "hands-on" and can only be taught in a classroom. But here, with easy-to-use computer based material, you can remotely take the same courses, and still gain the full benefits. Fully integrated simulation software bridges the gap between theoretical and practical usage, allowing you to gain the technical skills you're seeking, but in a convenient and comfortable manner.
Succeeding in Your Online Course
If you're new to online courses, you might be wondering how you can prepare for your workload. A common misconception with online courses is that they are much easier than in-person classes, and that means less work and less effort. This couldn't be farther from the truth. If you want to get the most out of your program, learn as much as you can, and really excel. Online courses will not only be as cumulative as an in-person class, but they will require you to be very organized and focused. Here are 4 tips to help you succeed:
1. Plan your schedule —Plan out your schedule once you receive your syllabus. Slot in your due dates and projects into your calendar, and make time to study, and do your readings. Staying organized and plan-oriented from day one will help you in achieving success and keeping stress-free.
2. Stick to a routine —If you are planning to continue working while studying, this is even more critical. A routine will help you juggle a full schedule because by setting aside designated study hours, you will ensure that you actually complete your homework and readings. No routine might bring out the procrastinator in you, especially after you've already worked a full day.  Attempting to tackle all your work without a routine might overwhelm you and cause you to let things slip. The last thing you want to do is call in sick because of a late assignment, or cancel social plans, so staying on top of your schoolwork, and sticking to a detailed study plan is in your best interest.
3. Monitor your progress — It's important to monitor your progress in order to ensure success. Simply completing assignments without reading your feedback and notes won't help you excel in future assignments. Check in with yourself often, and identify where and how you can do better. Success comes from consistent effort mixed with constructive criticism. Doing this yourself is necessary with online courses, as your teacher isn't going to be holding your hand throughout the semester. Remember to Plan, Do, Check, and Adjust.  If you see your grades starting to fall, be proactive in contacting your teacher or tutorial leader and ask for help.
4. Use discussion boards — Online courses can make it seem like you are all alone, but making use of discussion boards is a great way to bounce ideas off of other students, helping you stay motivated. These groups are there for your support, so if you start to feel lost and unenthused, hop on to your discussion board and reach out to other students, as they are likely going through the same thing.
Choosing to go back to school doesn't have to be a life-altering decision. With online industrial training options, you can choose from any field, while maintaining the lifestyle you lead as an adult.