April 2018 Tech Bytes
Industry News
Integrating Robotics in the Enterprise Infrastructure
With new advanced programming methods, even small- and medium-sized companies can easily integrate robots into their production line or service area to enhance revenues and process efficiencies. Read More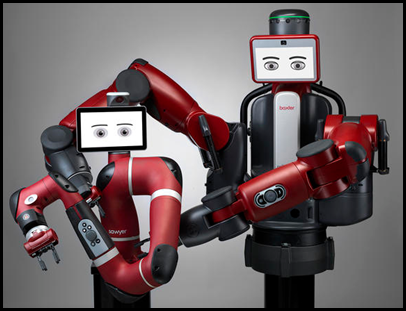 Robots Break New Ground In Construction Industry
Developing technology to allow bulldozers, excavators and other construction vehicles to operate themselves.?  Read More
Human agriculture laborers soon OBSOLETE: U.K. researchers grow the world's first crops using nothing but drones and robots
Drones have now found a niche as small-scale unmanned aerial vehicles (UAVs) for a bunch of random tasks. Most recently, a group of researchers from the U.K. have begun using drones to complement a new system of hands-free farming, Read More
---
Education
How to Find Funding for Your Adult Education
You have finally made the decision to go back to school and further your education.  Your reasons are clear, including learning new skills, transitioning into a new career, or taking your career to the next level. But you are now faced with the critical question: How will you pay for it all? Read More
What are community colleges? Are they vocational schools?
A uniquely American concept, community colleges were started as a way to train women to enter the workforce as teachers. You could say that early community colleges were the first vocational schools. Read More
---
Our Programs
7 Tips That You Need To Know About Your GBCTechTraining Online Exams
While there are no set exam deadlines for our programs, we here at the Student Support Center understand that taking any exam can be a very stressful time for our students, so today we're here to discuss everything exam related! Read More
Why International Students Choose GBCtechtraining for their Technical Training?
We know students from all over the world consider studying at a Canadian college or university because of Canada's excellent reputation and because the degrees, diplomas and certificates are highly respected globally. Read More.
Student Success Story
Name: Terrance Ryan
Program: PLC Technician Graduate
Terrance Ryan enrolled in the PLC Technician Certificate program to broaden his skills and find new employment opportunities. 'For many years I have worked in electrical construction, as a journeyman electrician, but now wish to get into electrical maintenance. Knowledge of PLC's is vital for this type of work."
'I thoroughly enjoyed the program. The simulation software, PLCLogix, was easy to use. I could set up and debug my own projects. In addition I was fascinated with how Boolean algebra could be used to simplify circuits. Being able to access the program tutors by phone 6 days a week, was extremely helpful.'
Take the first step and contact a Program Consultant today, toll-free at 1-888-553-5333.