April Tech Bytes 2016
INDUSTRY NEWS
Robots A New Kind of Manufacturing Workforce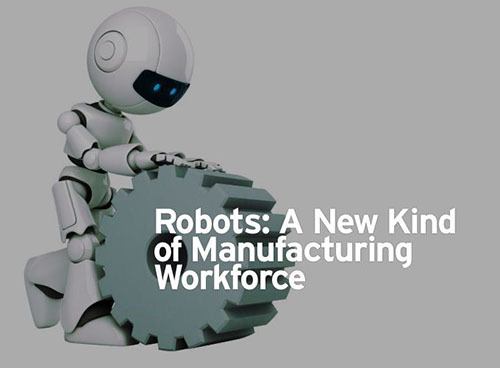 Improving the effectiveness of small and medium manufacturers could help stimulate the economy and drive job creation. Adding robotic employees to the manufacturing mix might just make manufacturers in the United States more competitive with their counterparts in Asia.
U.S. Manufacturing Expanded in March
Economic activity in the U.S. manufacturing sector expanded in March for the first time in six months. 
Public Predictions for the Future of Workforce Automation
From self-driving vehicles and semi-autonomous robots to intelligent algorithms and predictive analytic tools, machines are increasingly capable of performing a wide range of jobs that have long been human domain.
EDUCATION
Earning a College Degree Means Having Skills Other Workers Don't Have
But American adults still lag behind those of other wealthy nations.
OUR PROGRAMS
Automation Technician Certificate: A perfect program for learning and refreshing your knowledge
Technicians in today's work environment require a comprehensive "inter-professional" knowledge of electricity, electronics, electro-mechanics, robotics, and programmable logic controllers. Our Automation Technician Certificate program is perfect for learning or refreshing your knowledge in digital electronic, process control and programming of PLCs, robotics and SCADA systems. The program examines applications and examples of automated manufacturing systems including both the theory and function of digital and industrial electronics hydraulics and pneumatics, robotics systems, digital programming languages and alarm management.
One of the main features of the Automation Technician program is the integration of theory with laboratory experiments. Students who enrol in the program receive a licensed copy of LogixSim, which combines four simulators in one including CircuitLogix, RoboLogix, PLCLogix, and 3DLab simulation products.
The LogixSim offers realistic simulation of equipment costing hundreds of thousands of dollars and provides "real world" laboratory simulation of electricity, electronics, robotics, and programmable logic controllers. By combining four simulators in one, it offers unlimited possibilities for the design, testing, and debugging of control devices and automated equipment as well as circuit schematics and systems. From the simplest control circuits to the most complex, LogixSim has the versatility to suit almost any requirement for real-world simulation.
Start anytime enrollment, pay-as-you-learn registration, online exams and unlimited tutorial support provide an adaptable learning environment for people with a busy work and family life and demand a flexible approach to training.  The average time required to complete the program is approximately 32 weeks of part-time study.
STUDENT SUCCESS STORY
Name: Phil Boudreau
Program: Electronics and PLC Technician
Phil Boudreau has completed the Electronics and PLC Technician Certificate programs. 'Since taking the Electronics program, I have designed a circuit board for a special application required for air conditioning and refrigeration compressor conversions. Many of our customers use PLCs so I also enrolled in the PLC program to expand my skills. While I have not had the opportunity to work with PLCs yet, I am hoping to get my hands on some equipment very soon in order to apply my knowledge and strengthen my skills even further.'
'I really liked the simulators as they helped fast-track my understanding of various concepts. I was able to learn and remember technical concepts much more easily when I practiced them using the simulation tools.'
'The online forum was also helpful. The discussion forum proved to be a great resource since I was often able to find answers, to my questions, that were previously asked by other students who had similar challenges with the course content.'