July 2019 Tech Bytes
INDUSTRY NEWS
5 Sectors That Are Opening Up To People with PLC Training
The PLCs market was valued at $396 US Million in 2017 and is expected to reach approximately $825 US Million by 2024 with a CAGR (Compound Annual Growth Rate) of 11% over this period. North America has been and currently still is the largest PLC market globally and is expected to be the principle growth driver. Asia Pacific majors like India and China are also driving the rise in manufacturing units and pushing the demand for PLCs.  Read More
How SMEs are Benefiting from Robotics
For decades, robots and sophisticated automation and control systems were relegated to the likes of large manufacturers, such as Boeing, GM and Procter & Gamble.  However, the gradual cost reduction of automation technology, including sensors, robotics and software systems, has spurred a paradigm shift that now allows for small and medium-size enterprises (SMEs) to take part in the convenience of smart manufacturing.   Read More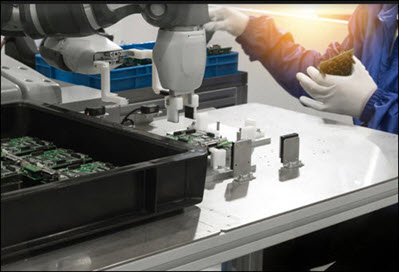 Three Sectors Benefiting from Electrification
From neighbourhood rooftop solar panels to electric vehicles sharing the road, the evolution to an efficient, flexible and fully electric system is underway. An integral part of what's being hailed the Fourth Industrial Revolution, the electrification of systems both at the industry and consumer levels has cut costs, improved efficiency and created a more consumer-conscious, future-proof market. Read More
---
Education
The Growing Importance of Non-Degree Credentials
As the pace of technological change accelerates, companies need employees possessing the most current skill sets, the most aptitude and appetite for continual learning, and an ability to adjust quickly as market conditions shift. The result is a global trend of employers considering alternative credentials in addition to – or even instead of – four-year-bachelor's degrees for certain positions. Read More
What Adults With Certificates But No College Degree Say About Their Job Experiences
American adults who never completed college but who've earned a professional certificate are more likely to be employed and earn more than those without such certifications, according to a new analysis of Gallup polling data.. Read More
---
OUR PROGRAMS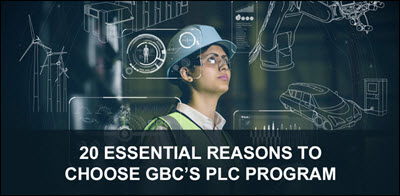 A GBC Webinar on July 25th
Are you considering GBC Technical Training's PLC certificate programs and looking to learn more about what the programs have to offer? Join our experts for a FREE Webinar exploring 20 reasons to choose our PLC programs, including:
GBC's flexible enrollment options
What it's like to be a PLC student
How we use simulation software in virtual lab-based learning
Program accreditation
Join us on July 25th, 2019 at 1PM EST. 

SUCCESS STORIES
Sumit Khangura enrolled in the PLC Technician program to supplement his Electronics Engineering Technology degree, as it did not provide an in-depth study of PLCs. He explained that his employer, Nav Canada, 'didn't even ask me about my degree, they wanted to know more about my certificate in PLCs.'
Sumit is an Installation Technician 'responsible for doing any and all PLC and automation related work.'
He believes that taking the PLC Technician program and learning about PLCs 'really helped me when interfacing PLCs to scale controllers.' He cites a specific time at work where there was 'an issue with bit formatting which I was able to troubleshoot. I determined that the PLC was displaying the wrong weight due to using the wrong datatype; a byte instead of a double was initially used in the ladder logic program.'
There are a number of features of the program that he liked, first, 'the certificate was self-paced, I could go as fast or as slow as I wanted and did not have to adhere to a professor's schedule and second, the simulation software 'was an excellent tool to learn programming ladder logic.' Meet More Graduates.