March 2021 Tech Bytes - How are Industrial Robots Taught to Perform Tasks
INDUSTRY NEWS
How are Industrial Robots Taught to Perform Tasks
Industrial robots are all around us; they produce the goods we consume and the vehicles we drive. To many, these technologies are often viewed as simplistic in nature. After all, while they are uniquely capable of producing products quickly and at a high level of quality, they operate within a limited range of motions. So just how much really goes into programming an industrial robot?  Read More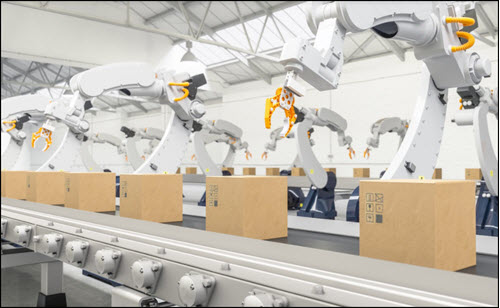 Allen Bradley vs Siemens: What's the difference between these PLC tools?
Like anything else, not all PLCs are created equal; each PLC on the market today has its own list of features and benefits. Two such PLCs, Rockwell's Allen-Bradley and Siemens are two of the world's most widely used PLCs – and while each device is undeniably an industry staple there are a number of key differences between the two of them. Let's take a look at how they stack up. Read More
BDO USA's 2021 Manufacturing CFO Outlook Survey shows how widely the Covid crisis has affected US industry
For American manufacturing, the Covid crisis is in many ways similar to World War II: an unprecedented challenge requiring novel and untried solutions. The effect has been particularly hard on middle-market manufacturing companies, representing an estimated 17% of all midsize firms in the US. Read More
---
EDUCATION
5 Tips for Online Learning
If you are a first-time online learner, taking an online course or even considering one you may find that they can present some unique challenges. Without a plan for managing these challenges, your performance could suffer.   Read More
How the 3 Most Common Electro Mechanical Systems and Devices Work


Almost every moving device is powered by an electro mechanical system. These systems are present in most electric motors, solenoids and mechatronics. From vehicle power windows and power seats to washers and dryers, many of the products we use in our everyday lives rely on these systems. Here are the three most common electro mechanical systems and devices and how they work. Read More
---
---
OUR PROGRAMS
Join our #AMA (Ask Me Anything) session on March 24 at 1 PM EST!  
#AMA is a monthly virtual open house where you can chat with our experts and ask your questions about our online technical certificate programs.  

Skills AT Students Gain with the GBC Automation Certificate Program
If you're considering a career in automation, you must already know that you'll be working on a wide range of control systems. Let's take a deep dive into what skills you will gain in our Automation Technician program by walking through tasks performed by an automation technician on a typical day. Learn More
---
SUCCESS STORIES
Hai Lan
Automation Technician
Hai Lan registered in Automation Technician program to augment his career and he appreciated the online, flexible format.
Hai is an Electromechanical Technician and prior to the pandemic worked in maintenance for Jessica Pastries Inc. a dessert manufacturing company. Read More