May 2019 Tech Bytes
INDUSTRY NEWS
6 Robotics Trends Taking Over Manufacturing
Manufacturers incorporation and adaptation of robotics has developers at work right now, and their innovations likely to influence manufacturing sooner than you expect.  Read More
Automation Technicians in Action: What Does the Job Entail?
Automation technicians are the human brains behind the machines. They are responsible for keeping automated machines running smoothly and efficiently, and deal with any problems should they arise either in the programming or in the machine itself.  Read More
---
EDUCATION
Seven Reasons Why Millennials Should Consider a Career in Manufacturing
The idea of a career in manufacturing as low-skilled and static are untrue—modern manufacturing offers endless exciting opportunities and challenges that are well suited to the interests and skillset of many millennials. Read More
A Guide to Continuing Education Units in GBC's Technical Training Certificate Programs
How many Continuing Education Units (CEUs) are granted upon completion of one of the technical training certificate programs. Read More
---
OUR PROGRAMS
What Does the Actual Technical Training Certificate Look Like?
Over the years, we've had many questions about the certificate that graduates receive upon completion of a George Brown College online Technical Training Certificate program including what it looks like, its value, the accreditation it carries, and how it prepares you for a career in the industry. Read More 
Technical and Tutorial Support Q&A with Geet, Senior Support Consultant
Geet Amin, Senior Technical and Tutorial Consultant, at GBCTechTraining, talks about some of the common technical challenges the students in our programs face, and how he and other support team members here help them! Learn More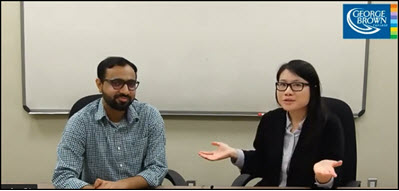 ---
SUCCESS STORIES
Rambhai Parmar works as an Instrument Journeyman at DCM. There he's responsible for the day-to-day maintenance activities of the instrumentation systems (including PLC and DCS) for DCMs' customers in the oil and gas sector.
Rambhai enrolled in the PLC Technician II program as he required more advanced PLC training. Since completing the program, Rambhai says, 'my confidence working with PLC's has increased.' He used the Resource Centre discussion forums to get the guidance he needed to complete the course.  Rambhai stated he" found it to be excellent"