A Guide to Pay-As-You-Learn Registration for GBC's Technical Certificate Programs
Friday 18 Jan 2019
Did you know there are two ways to register for our online technical training certificate programs? George Brown College's School of Distance Education makes it convenient and affordable for students to register by allowing them to either: 1) register and pay for the entire program through a full program registration, or 2) pay in installment-type payments through the Pay-as-you-learn registration.
Students that choose Pay-as-you-learn have an initial registration cost, and will pay for the other modules when they are ready to study them. The initial cost covers:
registration into the program

USB with the entire curriculum

a software user manual

access to technical and tutorial support for the first module

access to additional online program resources for the first module

the online exam for the first module
The USB contains the entire curriculum, and includes theory, examples, review questions, multi-media content such as audio and animations, and lab simulation software for all the modules. Once a student registers into the program and receives their USB, they have access to the entire curriculum. After they complete their first module exam, they can register into new modules to gain access to support and exams for the other modules. Access is remotely activated, so students don't have to worry about waiting for new materials to arrive to start accessing content.
There is no difference in total program cost between the two registration options, and students can register and pay for the modules individually or in groups. However, a large benefit of full registration is the ability to access module content (online program resources and online exams) when needed without having to wait to register!
Here is a breakdown of all the Pay-as-you-learn costs across all the technical training programs: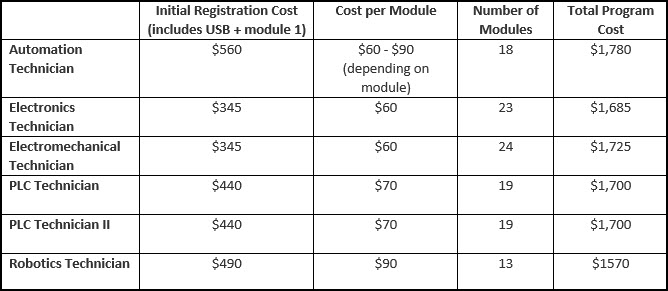 If you'd like to know more about Pay-as-you-learn registration, contact us! You can speak to a Program Consultant toll-free at 1 888-553-5333 or email us at info@gbctechtraining.com.