Subscribe to Techbytes
Get free email delivery of our monthly Techbytes newsletter for a round up of industry news, online education tips and updates and information about our online Certificate programs.  
August 2013 Tech Bytes
Industry News
Manufacturing Matters
Manufacturing is experiencing an American renaissance that few expected just years ago. Lower energy costs, a result of a new-found domestic abundance of natural gas, and realized innovation capabilities are restoring business confidence in the United States and supporting a pronounced re-shoring of industrial production.
Bottom line: manufacturing matters. That is the case being made in a recent Brookings paper, "Why Does Manufacturing Matter? Which Manufacturing Matters? A Policy Framework." The authors Susan Helper, Timothy Krueger, and Howard Wial highlight manufacturing's role in the economic competitiveness of the United States. They support their claims by outlining four prominent benefits: Manufacturing provides high-wage middle class jobs, is the nation's major source of innovation, is export-intensive, and is a leader in the environmentally sustainable "clean economy. Click here for full story.
Tech Savvy
There has been a significant uptick in the number of tech manufacturing jobs in the U.S. since 2001. One of the major reasons for expanding manufacturing to the U.S. stems from the desire to have factories closer to consumers and those who can then fix problems. Click here for full story.
Rise Of The Farming Robots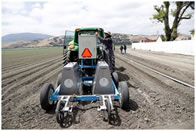 Researchers are now designing robots for these most delicate crops by integrating advanced sensors, powerful computing, electronics, computer vision, robotic hardware and algorithms, as well as networking and high precision GPS localization technologies. Click here for full story.
Robots On The Rise In China
The interest reflects a growing interest in robotics among Chinese manufacturers, who are increasingly turning to technology to overcome the challenges of rising labour costs and fierce competition from emerging nations in South and Southeast Asia. According to Liu, the Shanghai arm of Fanuc, which dominates the global market for industrial robotics, almost doubled sales every year until cooling somewhat following the 2009 global financial crisis and outbreak of the 2011 earthquake and tsunami in Japan, which hurt the supply of raw materials. Click here for full story.
---
Education
Salary tracker shows community college grads earning more than some graduate degree holders
With the right major, California community college graduates can out-earn workers with bachelor's and master's degrees – often by a lot. The highest-paying fields don't necessarily require a two-year associate's degree, the guide shows. Five years after earning a certificate in electrical systems and power transmission, the people who repair and maintain electric lines and test power meters earn a median salary of more than $123,000 a year. Click here for full story.
---
Our Programs
Thinking about registering into one of our programs? Why not get started now!
Summer's almost here! For some of you that might mean a lighter schedule at work. Or perhaps you are looking to supplement your leisure time with a little more personal productivity as well?
Consider this:
Our programs offer continuous enrolment so you can start this week or next month or at any time that is convenient to you.
Our programs are self-paced and designed to meet your schedule, not ours; we provide you with the technical and tutorial support but leave the scheduling of studying and exam completion up to you.
Our Support Center staff is available Monday – Friday: 9:00 am to 10:00 pm, EST and Saturday: 10:00 am to 5:00 pm, EST to assist you with any technical or tutorial questions.
Whatever your circumstances, now is a great time to start your training....but don't forgo your summer vacation; we all need a break from work or study to keep us motivated.
---
Student Success Story
Name: Robert McDaid
Program: Electronics Technician Certificate
Just a little bit about my background, After 20 plus years in Automotive sales and service management, I decided that life was too short to wake up every day dreading the drive to work. At the time, I had no aspirations of returning to school. I just felt that there had to be an alternative to the stress, long hours and never ending frustration that mounted daily.
This was late fall 2012. In February 2013, I came across an ad for George Brown's distance learning programs and after a week of sitting on the fence, I enrolled. Since I was unemployed, I treated the program as a full time commitment. My goal was to complete the program by my birthday in May or approx 12 weeks.
Having no formal education or work experience in electronics, I had my hands full. During those 12 weeks, I took a week off to attend EPTAC Canada's hand soldering and re-work course. At the time, I had never owned a soldering iron, but thought it may be useful for the career I had chosen.
Armed with little more than desire, time and my computer, I tackled the courses and followed my game plan.
The order that the modules were presented helped greatly, considering my non-technical back ground.
Some modules were simple and some not so simple and required far more time and energy than I expected.
As my self imposed deadline approached, I feared that I was going to miss target date for completion. When I had completed a third of the modules, I started sending out resumes and applications for positions in the industry from electronics to telecom companies.
Most didn't respond and the ones that did, were cattle calls.
Head down and focused, I ended up making my target and completed the program one week before my birthday. And my average grade on the 23 courses was 85 percent.
Ok! Now what? Well I kept applying to the typical postings on Monster, Job Bank, Workopolis etc.
Hey, I'm a graduate now, why are the responses or lack thereof, still the same?
Well, then I started following the GBCTechtraining LinkedIn group and carefully watched the job postings.
I do apologize for the long story, but due directly to the job postings in the LinkedIn group, I have landed a great position with a fantastic up and coming AV company close to home and I am able to spend time in the field and time on a bench diagnosing, repairing and maintaining electronic equipment. I am also doing commercial AV installations.
For the first time (in a very long time), I look forward to going to work!
Take the first step and contact a Program Advisor today,
toll-free at 1-888-553-5333.