February Tech Bytes
INDUSTRY NEWS
Trends Shaping the Return of Manufacturing to the United States
The restoration of domestic manufacturing's vitality has been in progress for several years, with trends like "reshoring" as well as capital investments in new production capabilities, the embrace of "smart" technologies, and in manufacturers' adoption of new information standards and data communication capabilities. 
Click here for full story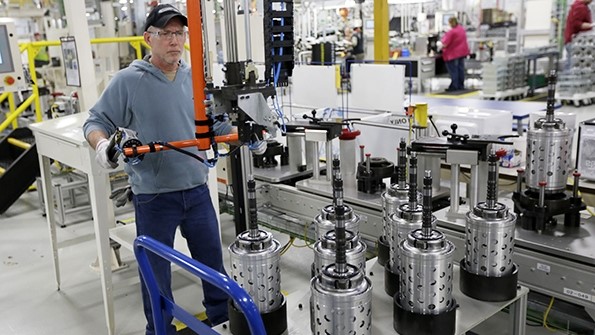 Soft Robot Hugs Your Heart to Keep It Pumping
An implantable sleeve mimics the motion of the heart and reverses heart failure in pigs. Click here for details
Robot startups gain funding
128 startup robot companies grabbed a total of $1.95 billion in investment funding in 2016 — 50 percent more than 2015 Click here for details
EDUCATION
5 Online Education Trends to Watch in 2017
In the past few years, more students enrolled in online courses, more organizations offered alternative credentials such as digital badges and nanodegrees and more employers accepted online degrees from job candidates. Click here for details
OUR PROGRAMS
A Guide to Certificates versus Certifications
Selecting the right training to advance your career can be very challenging. It's difficult to know exactly what training will meet your specific needs, that will give you the knowledge and technical skills you require today, that will ultimately increase your hire ability and/or value to your employer. Read More
Student Success Story
Name: Dale Splettstoeszer
Program: Electronics Technician Graduate
Dale Splettstoeszer is a Senior Microelectronics ECAD Designer for a hearing aid company. He works in the development of next generation technologies and platforms, including designing the tiny flexible circuit that is contained in the hearing aid.
Dale`s manager, a George Brown College Electronics Technician Certificate grad, recommended the GBC program to Dale. Supported by his company, Dale enrolled, looking to expand his working knowledge of electronics.
While there were many aspects of the program that Dale enjoyed, he particularly appreciated "the ability to move at [his] own pace." He also found the textbook "was well written, well designed and really complemented the computer-based material." When Dale contacted GBC tech support about an incorrectly posted exam grade, "{he] was very impressed with how quickly they responded by phone and email and fixed the problem."
As a result of the program Dale is more knowledgeable and productive in his job.  "Now, when I sit in meetings and listen to the product engineers discussing the hearing aid circuits, I understand far more of what they are talking about".
Meet More Graduates