Online Technical Training Blog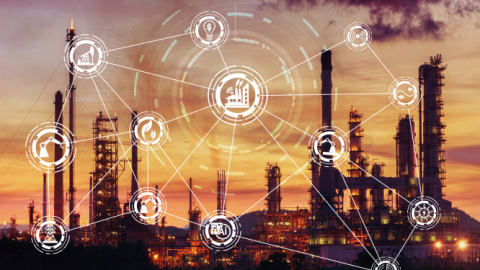 4 Ways to Keep Up to Date with the Technology Changes in the Manufacturing Industry
Keeping up with the technology changes in the manufacturing/industrial industry is important to stay relevant in your job/career. With the world changing so quickly, it's always a good idea to stay in the loop and know what the current and future trends are, and take advantage of opportunities to grow. But how can one keep up with the industry?
Below are 4 ways to stay up to date:
1- Read, Watch, Listen
When it comes to keeping up with constant changes in the manufacturing industry, reading related industry articles, watching videos, and listening to podcasts are definitely quick and easy ways to keep your knowledge up to date. The diversity of the content will help you learn and understand more about your industry. Subscribing to newsletters, magazines, or trade journals is one way of keeping yourself up to date in a constantly evolving industry. If you are interested in robots, AI or Automation, you can find dedicated articles about the new changes that are occurring within your industry. Or if you are a visual learner, videos are a fun and insightful way of absorbing information. And podcasts are incredibly popular and prevalent as they help you make the most of your commute or even an evening walk. You can learn a lot by simply listening to the topic of your choice.
Taking a few minutes out of your day to scroll through some publications, videos or podcasts is a great way to keep yourself updated about the latest news.
2- Attend Virtual Events/Webinars
Attending a virtual event or webinar isn't just for networking. These events give you the opportunity to hear from professionals and experts in your industry, try out new technology, and interact with professionals or your peers within your industry. You'll gain insights regarding current and possible future trends in the comfort of your home. Additionally, some webinars/virtual events record their sessions so if you can't attend you have the opportunity to watch it later at your leisure, or even rewatch if the topic is of interest.
There are lots of virtual events to choose from which are free or can fit into every budget.
3- Follow Social Media Accounts
We live in a world where social media platforms have become one of the best sources of up-to-date information or industry news. Because of their nature, you can find information and the latest news fairly fast and easy. Whether it's Twitter, Facebook, LinkedIn, Instagram, or Reddit, social media provides a wide range of accounts that you can follow based on your particular interest. So, find and follow experts you're interested in, interact with them and grow your network as well. As the saying goes, you'll kill two birds with one stone – networking and learning.
4- Participate in Forums
Online forums and discussion boards can be a goldmine of information. Joining a private LinkedIn/Facebook group, reading subreddits, or joining online forums such as The Manufacturer Community, can provide you valuable insights from a diverse audience with broad range of opinions. You can learn from others while sharing your ideas and perspectives. Forums and discussion boards can also help you find people with like-minded interests with whom you can build relationships for your future career and have another opportunity to grow your network.
Conclusion
Everyone has a different way of keeping up to date. Find one or two that work best for you so that you don't miss the current trends and advancements. Apart from the tips provided in this article, see how you can update your skills and knowledge with an online Technical Training Certificate program that will benefit your career in the constantly evolving and growing manufacturing industry.
If you have any questions about our technical training certificate programs, you can speak to a Program Consultant toll-free at 1 888-553-5333 or email us at info@gbctechtraining.com.