Online Technical Training Blog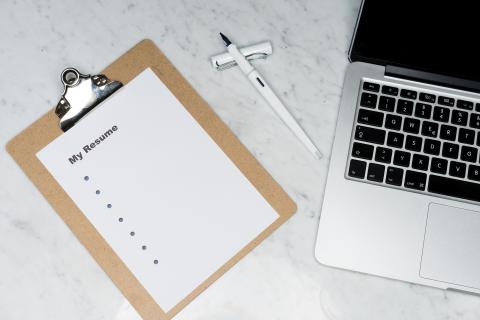 5 Tips to Give Your Resume and Cover Letter a Makeover!
Securing an interview is the first step to getting the job you want. To get that interview, you need to master the skill of crafting a strong resume. Today's job market is highly competitive. Most companies use applicant tracking systems (ATS) to screen resumes and passing the initial screening process can be a challenge. Resume and cover letter writing is now a skill, and in order to highlight your personal and professional achievements, as well as demonstrate your fit for the particular job, it is critical to learn this skill. Cookie-cutter resumes and cover letters are no longer effective. Instead, you should customize your resume for each job. Focus on matching keywords between your resume and the job description.
It is no surprise that one job posting can attract hundreds of resumes. Because of this, recruiters have less time to read each resume. As per a study conducted by TheLadders, an online job-matching service, recruiters spend only an average of 6 seconds on each resume. They quickly skim for essential qualifications and skills match.
To help guide you through the process of applying for a job and attending an interview, we've listed 5 quick tips to help guide you along the way.
1. Write a customized cover letter for each job
Do recruiters even read cover letters? Yes, cover letters are normally addressed to the 'hiring manager'. Your cover letter provides details that are not on your resume and can help the manager get to know you better. When drafting a cover letter, study the job description well and dig out the root problem that the company is trying to solve. In a brief summary, explain how you can help. Remember, a targeted cover letter shows effort on your end to secure the job.
2. Use specific words to beat the Applicant Tracking Systems (ATS)
Start by capturing words or skills that are most critical for the role. Identify repeated words in the job description or build word lists by adding the job description to any free online word cloud site like WordClouds.com. Higher frequency words can be identified as key words. Most ATS systems do not recognize content in headers, footers, tables, multi-column layouts and graphics. So steer clear of them. Keep the resume simple, clean, with lots of white space and focused on the keywords. Furthermore, if you have your resume in the wrong font, the ATS may convert it incorrectly. Stick to a Sans Serif font and use a size no smaller than 10 points. 
Sans Serif

3. Create a strong targeted summary statement
This is the first thing any employer reads in the resume. Ensure you tailor it to each position that you apply to, demonstrating how your skills and experience align with the requirements of the job. Remember, this is a summary statement explaining who you are and what value you can bring to the role. This is not the same as an objective statement, which expresses what you wish to gain out of the role/experience and not what you can offer the organization.
4. Use 'Success Verbs'
Start all bullet points with 'success verbs', which are action verbs that require you to quantify/substantiate your experience. Success verbs can be used in your cover letter as well. Avoid verbs and phrases that are static such as 'managed,' 'my responsibilities included,' 'hired to,' 'was responsible for,' and so forth.
While constructing your resume bullet points, lead with what's most important to know (remember to start with a success verb), then provide some background and close the sentence with your impact. For example:
"Revised LadderLogic programs to minimize failures and reduce program execution time, thereby increasing daily production by 10%"
Breakdown:
Revised: Success verb
Revised LadderLogic programs: Lead with what's most important to know
to minimize failures and reduce program execution time: Provide background
increasing daily production by 10%: Close the sentence with your impact
5: Avoid buzzwords
Avoid using buzzwords such as 'Go-getter', 'Strategic thinker' or 'Thinking outside of the box' etc. Experienced recruiters can easily spot them and more importantly, they hurt your credibility if they are not backed with instances that demonstrate the same in your resume. Also refrain from using industry jargons and explicitly write out any acronyms in the resume. Consciously use words that are action-oriented and delete words that 'lack clarity and decisiveness'.
 As a student of our technical programs we are confident that you will possess the needed skills, and in order for you to accurately convey the same, we've put together a ready reference list of 40 Success Verbs for you. When you create your next resume, pick words from the list below, as these words will fit into most of the common resume bullet points.
| | | |
| --- | --- | --- |
| · accelerated | · empowered | · minimized |
| · achieved | · gained | · negotiated |
| · added | · generated | · obtained |
| · awarded | · grew | · optimized |
| · contributed | · identified | · organized |
| · championed | · improved | · produced |
| · created | · implemented | · planned |
| · decreased | · increased | · reduced |
| · delivered | · introduced | · revised |
| · drove | · integrated | · saved |
| · earned | · initiated | · streamlined |
| · eliminated | · launched | · spearheaded |
| · exceeded | · led | · transformed |
| · expanded | · maximized |   |
Students and grads of our technical programs can also join the GBCTech Training Student and Alumni Network on Facebook and get access to industry updates and alumni who may help you find your next job. Remember: a relevant, structured and flawless resume and cover letter is the ultimate goal. Good Luck!