Online Technical Training Blog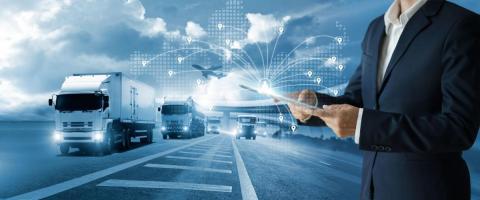 How Robotics and IoT Are Changing the Trucking Industry
In recent years, we've grown accustomed to the integration of smart technologies into our everyday lives. For manufacturing and industrial practices, this ongoing automation using modern smart technologies is referred to as the Fourth Industrial Revolution aka. Industry 4.0.
Long before Industry 4.0 began, the trucking industry has been the backbone of domestic and international commerce. By delivering goods for sale to end consumers and creating reliability for global supply chains, transportation and logistics systems have proven to be a vital part of the economy. Despite the obvious need for human planning and physical deliveries, this industry has a lot of potential to utilize the technological advancements which have become so common in recent years.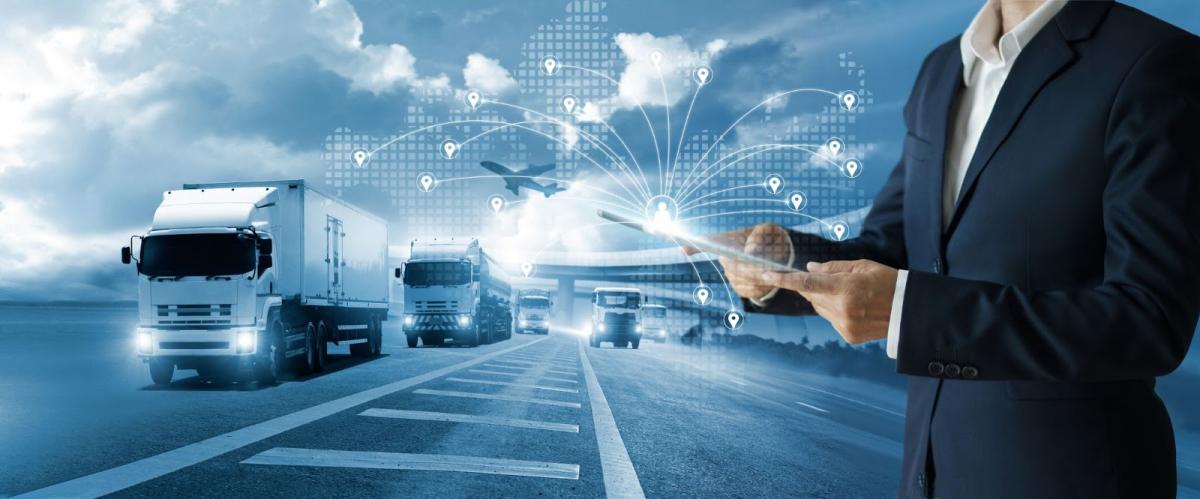 Technological improvements such as the Internet of Things (IoT) and robotics have been introduced to the trucking industry, providing solutions to make trucking safer, more efficient, and more reliable than before.
This article will explore how artificial intelligence (AI), robotics, and IoT are revolutionizing the trucking industry.
1. Leveraging Big Data for Higher Profits
IoT data gathering technology already plays a key role in smart factories around the world. Smart manufacturing allows factory managers to automatically collect and analyze data from sensors and machines to make better decisions and optimize production. As it stands, gathering detailed analytics can help transportation and logistics companies keep their fleets running for longer with fewer repairs.
1.1 Predictive maintenance
Trucking companies incur annual repair bills as high as $15,000, plus an additional $4,000 for tires. Many problems which arise could have been avoided if they were spotted earlier. "Predictive maintenance" is a form of AI which allows problems to be addressed before they become more severe and expensive. Smart technology like this collects and analyzes data to report potential hazards to the driver and the company, enabling them to schedule repairs and logistics accordingly.
1.2 Forecasting mechanical failures
Peterbilt Motors Company, a Texas-based manufacturer of mid-sized to heavy duty trucks, created a solution which uses IoT coupled with Diagnostic Trouble Codes (DTC) to pinpoint where problem areas might occur. The system uses automation software and analytics to deploy enhanced fault guidance. Raw data collected from DTC's, repair histories, and fleet operating conditions help their customers forecast possible mechanical failures, thereby increasing uptime for their transport routes.
1.3 IoT in the trucking industry for future success
Utilizing IoT in the trucking industry not only offers companies peace of mind by not running into unexpected problems and expenses, but a better ROI in the process. It saves them an immense amount of money while creating safer and more efficient fleets. In fact, 90% of trucking company owners believe that IoT technology is fundamental to their future success.
2. Efficiencies in Loading and Unloading Cargo
Just-in-time (JIT) delivery is a strategy in supply-chain management which helps facilitate speedier order fulfillment by syncing orders to suppliers with production or delivery schedules. For the transportation and logistics industry, JIT deliveries create a need for greater efficiency when loading and unloading cargo.
2.1 Last-mile deliveries
In order to be successful, companies need to improve efficiency in logistics in their last-mile delivery process — this is the last part of a delivery process when a package or cargo makes its way from the transportation hub to its final destination. IoT and robotics working alongside personnel in warehouses, or independently while fully automated, make significant improvements in efficiency and time-saving procedures.
2.2 Automation in warehouses
Improving the speed of loading and unloading times at a warehouse allows trucks to complete more orders in a day. Companies such as FedEx have implemented the latest technologies and a network of robot computers in their warehouses to achieve impressive results. Automation in warehouses mitigates issues caused by worker shortages- another key investment area which could save the industry millions of dollars.
2.3 Automated robotic truck loader
Made by Wynright Robotics, an automated robotic truck loader (RTL) is able to efficiently load and stack boxes, containers, and other cargo directly onto the bed of a truck or shipping container without using pallets. This RTL loads cases automatically, using sensors to adjust its position, load the cargo, and backup for the next row of cases. It optimizes shipping space and improves loading efficiencies while saving time in the process.
3. Self-Driving Trucks for Safer Roads
As IoT and robotics advance and automation technology grows, so does its demand in the manufacturing, transportation, and logistics industries. As technological advancements trend upward, so does the market growth for robotics and the possibility of an automated trucking industry.
One of the most convincing arguments in support of the rise of automated vehicles, both trucks and cars, is safety. The concept of robots driving trucks with AI makes the roads safer for everyone. Long-distance routes which demand hours of focus and alertness pose a threat to both the truck driver and other vehicles on the road; not to mention, potential accidents jeopardize tight logistic schedules.
Reliable and accurate AI systems help reduce the risk of accidents, while alleviating pressure from the driver. Presently, these ideas for an "automated truck" still require a human to be present during transport, so it's unlikely AI will replace truck drivers anytime soon.
Truck driving automation technology is in its early stages of development, but there are several companies pioneering the self-driving transport truck industry.
3.1 Embark
Founded in 2015 and based in San Francisco, Embark Trucks Inc. is building self-driving trucks to make the roads safer and transportation more efficient. Its technology aims to automate the highway part of a transport truck's journey. Local delivery drivers take their loads and drop them off at a "hub" location off the highway, where an Embark truck takes over. A safety driver inspects the truck so it is enabled for transport and then gets behind the wheel, allowing the technology to take over once the truck is on a highway.
3.2 Daimler
Daimler Trucks North America LLC, the company behind Mercedes-Benz, announced in 2019 that its new Freightliner Cascadia big-rig will include higher levels of robotic driving. It also said the company would invest $570 million in automation over the coming years, creating more than 200 jobs, with a goal to create Level Four driverless systems (full autonomy in most situations, climates, and environments) in the next decade. Daimler said this technology will "improve safety, boost the performance of logistics and offer a great value proposition to the customers – and thus contribute considerably to a sustainable future of transportation."
3.3 Tesla
In 2017, Tesla revealed the plan for the new Tesla Semi: an all-electric Class 8 transport truck with self-driving technology. Like on Tesla cars, "Autopilot" for transport vehicles will provide a semi-autonomous system where the accelerator, brakes, and steering are managed by an AI system on highways with clear lane markings. This technology drastically improves safety and efficiency, yet the driver must remain with hands on the wheels and fully alert at all times.
4. AI Trucks Ensure Shipments Arrive in Good Condition
There is much to consider when it comes to shipping products, especially when transporting perishable goods, expensive electronics, and fragile items. These types of shipments take extra planning at the logistics stage to ensure the goods arrive at their destination in one piece, and in the condition the customer expects them.
4.1 Sensitive cargo
Sensitive cargo like plants and flowers, and time-sensitive perishable goods require particular conditions. IoT technology is able to automatically adjust variables such as temperature and humidity while sensitive cargo is in transport. Additionally, the technology recommends the best routes, taking into consideration the current road conditions, weather, construction zones, and even accidents. This ensures deliveries will be on-time and arrive in their expected condition.
4.2 Cargo tracking
As demonstrated in home package delivery with companies like UPS and FedEx, the ability to track packages leads to increased customer satisfaction. The same functionality can be applied to commercial trucking by using AI and IoT to track deliveries in real time.
Robotics and IoT in Trucking: Endless Possibilities
Industry 4.0 has been revolutionary for manufacturing and industrial practices, by implementing technical improvements such as IoT and robotics to automate various tasks. For the transportation and logistics industry, these technological advancements have the potential to make trucking safer and more efficient.
While many of the technologies are in their early stages, there are endless possibilities for how AI, robotics, and IoT can improve the business of trucking, and the industry agrees.
Online robotics training courses offer a convenient way to learn the foundations of industrial robotics, and provide the technical education and practical knowledge and skills to apply in the workplace. Take a look at the Technician Training Programs George Brown College has to offer.