Online Technical Training Blog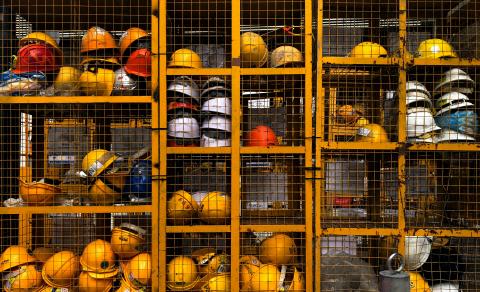 Robots at Work: A look at Safety Standards
The adoption of robotics in industry continues to grow at a very rapid pace.  "Between 2005 and 2008, the average annual number of robots sold was about 115,000 units. Between 2010 and 2014, the number rose to about 171,000 units…an increase of about 48%." (IFR.org)  Robots were first introduced in the 1970's in a manufacturing capacity, initially in assembly lines for automobiles.
At the start of the 1980's "The industrial robot industry starts its rapid growth, with a new robot or company entering the market every month." (Robots.com)  Recently with industrial robots, "there are five major markets representing 70% of the total sales volume in 2014: China, Japan, the United States, the Republic of Korea and Germany." (IFR.org) The demand for trained technicians to install, support and maintain these machines has also grown at a rapid rate.   Mainstream applications of robotics today include manufacturing automobiles, handling hazardous materials or doing monotonous tasks without the need for rest.     
As the saying goes "innovation leads, standards lag", which means that robotic safety standards were relatively non-existent when robots entered the workplace.  In the 1990's as robotics was becoming more prevalent, many countries developed their individual standards.  Canada followed the CSA Z434-03 standard, the U.S followed the ANSI RIA R15.06 standard and Europe subscribed to the ISO 10218 standard to define rules around robotics safety.  These standards were all relatively similar to each other with minor differences based on local needs and applications.  However, in an increasingly globalized world, standards were needed that apply to all countries.  
Today, international standards are almost all based on Europe's ISO 10218-1 and 10218-2, and have been adopted by most countries since around 2011.  Most of the safety requirements in ISO 10218 are taught in the Robotics Technician program, including the use of mechanical limiting devices, fixed barriers, human-presence detecting devices and redundant safety design.  The Robotics Technician program advises that all of these safety precautions be taken, including specifically that robots should be surrounded by a fence.  When a technician enters the work area through an interlocked gate, the robot will lose power.  This has become standard in ISO 10218-1.  In ISO 10218-2 there have been additional changes to coincide with the development of newer technology including the development of "personal support robots," meaning robots that help with home care, especially with the elderly. 
Recently "a new robot developed by researchers at RIKEN and Tokai Rubber Industries can lift a patient weighing up to 80kg off the floor and into a wheelchair."  Standards have also been devised for robots in a "collaborative" environment, addressing when robots and humans work in the same immediate vicinity.  
The explosion of growth in the field of robotics and the application of these standards of technicians have led to stringent safety regulations.  It is imperative that robotics technicians stay up to date with changing standards.  If safety regulations are not followed it can result in property damage, injury or even death.  Students of the Robotics Technician program learn the fundamentals of robotic safety that addresses how to reduce the risk of damage to property or personal injury.  As robotics evolves and more applications of robotics are developed, it will only increase the demand for qualified robotics technicians.  Click here to find out more about how the Robotics Technician program addresses robotics safety or call a program advisor at 1888-553-5333