Online Technical Training Blog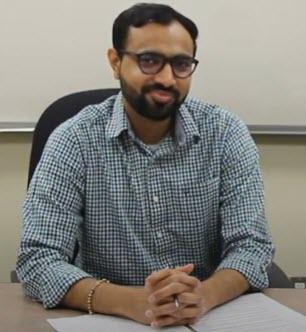 Technical and Tutorial Support Q&A With Geet, Senior Support Consultant
Geet Amin is the Senior Technical and Tutorial Consultant at GBCTechTraining, and has been here since 2010, making him very knowledgeable about the online Technical Training Certificate programs offered here at George Brown College.
We recently sat down with Geet to talk about some of the common technical challenges the students in our programs face, and how he and other support team members here help them! We also cover the tutorial support that is offered by the programs.
1. A common question we get from new students is how the software is installed on a computer. Geet, what is the process of installation like?
Geet: When you register for a program, you'll get a USB from the college, which you will use to install the program material. Digging into the installation process, it's very simple! You plug in the USB to your computer and you'll have to run a setup file. It's a single setup file which will install everything you need, including the simulation software. You'll just have to double click on this file and run it.
One thing to note is that our programs are strictly windows-based, so they will not work on Mac, Linux, or operating systems other than Windows. So you will need a Windows-based PC laptop or computer to run the program. Other than that, there is no high end graphics requirement, and the program would work on any Windows computer.
2. You also handle other technical issues too. How do you help a student with a technical issue when you aren't in the same place as them? For example, how do you handle a student when they call in for any installation issues?
Geet: Even though it's a very simple installation process, there could still be situations where students will find issues. For instance, there could be another program running on your computer that is conflicting with our program and it's not allowing you to install it correctly. That, or you don't have admin access to the computer that you're installing it on. Or maybe you have you have an anti-virus program that is blocking the installation of our program your computer!
In situations like these, students can reach us at the Contact Center, and there are different ways we can help out! We can give instructions over the phone, and students can follow on their computer and to try and solve the issue. If someone is not comfortable with the computer, with their permission, we can remotely access their computer and install it for them. Once we have remote access to their computer, not only can we install the program, but also test it out and make sure that everything is running, and diagnose any other issues that may come up.
One of the major requirements to install our programs is administrative access on the computer. Often, if students are installing on a work computer, they might not have admin access. In that case, they will have to contact their IT department to give them full admin access before they can install the program.
So for all these issues, we have a dedicated support line where students can contact us, and we can always help them out!
3. Geet, you also provide tutorial support for when students need help with the program content!
Geet: Tutorial assistance is very important throughout the program. If anyone needs help with the math or programming, for example on the ladder logic programming in the PLC program, we are here to help! There are different ways students can reach me and other support staff when they have technical or tutorial questions. We have a dedicated technical and tutorial phone line, and there is an online discussion board available that is very helpful to the student's learning experience.
One of the advantages of the online discussion board is that students can interact with other students enrolled in the program, and our online tutor. Students can post program-related questions in the Student Forum, and they will be answered by the online tutor as soon as possible. There are tons of student questions already posted in the Student Forum, so there's a good chance that students will find questions what they're looking for already answered on the forum. If you don't find anything that you're looking for, you can always post a question!
 
Thanks, Geet! These are just some of the ways Geet, and other Support Consultants here provide our students with technical and tutorial support.
If you're struggling and would like to reach technical support, you can call us toll-free at 1 866-279-1457.