Online Technical Training Blog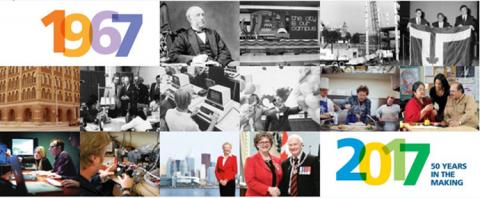 The Top 8 Reasons Why You Should Take Your Technical Training with George Brown College
Are you looking for a technical training program to develop your skills and propel your career forward?
We know that finding the right program and finalizing your choice can be difficult, frustrating and time consuming. This can be especially true given the large number of technical programs available and different study options to consider including school reputation, program outcomes, instructors, learning experience, and price.
We think George Brown College is a great choice to support developing the technical skills you need to launch your career and to succeed in the workforce. Here are the top eight reasons why.
1. George Brown College is a recognized and highly respectable institution across Canada and the U.S.A.
GBC opened its door 50 years ago with 2,009 students and 187 instructors on two campuses in Toronto. There are now over 28,000 full-time students, over 3,000 part-time students and over 66,000 continuing educations students in 152 full-time programs and 243 Continuing Education Certificates/Designations. Students can earn diplomas, post-graduate certificates, industry accreditations, apprenticeships and four-year bachelor degrees.
2. Third-party accreditation bodies have recognized the quality and performance of GBC including:  
• College and Institutes Canada (CICAN) named George Brown a gold recipient of the Internationalization Excellence Award.
• The Association for the Advancement of Sustainability in Higher Education (AASHE) ranked George Brown College as a top performer when it comes to sustainable practices.
• Research Infosource, recognized George Brown as the top research college in Canada and first in industry partnerships. The two acknowledgements from Research Infosource are particularly representative of the college role in the work environment. In fact George Brown provides small and medium-sized businesses with the means to develop and commercialize products by drawing on the college's broad range of expertise and resources, giving students valuable real-world learning experience in the process.
The college is focused on creating a learning environment that encourages employees and their managers to create plans to help them achieve their individual and career goals. The college also provides in-house professional development, online training programs and tuition subsidies. At George Brown employees are satisfied, eager to develop their skills, and highly motivated to support our students.
4. GBC develops a wide variety of programs and courses that meet student, employer and community needs.
There are 8 Centers, 24 Schools and a wide range of programs in Art Design & Information Technology, Business, Health Science, Engineering Technologies, Culinary Arts, Liberal Studies, Community Services and Continuous Learning. George Brown continues to launch innovational new programs to meet the needs of employers, students and professionals.
5. George Brown has developed strong relationships with companies and top industry employers.
These relationships enable the college to acquire important advice to constantly update and renovate its courses according to the latest industry needs.  Thanks to its roots in industry, George Brown provides its students a crucial field education that helps to gain highly needed skills in the current job market.
6. The college gives students the opportunity to learn by doing with a hands-on learning approach.
Our faculties, including The Chef's House and WAVE clinics, simulate real-world work environments. And our programs such as the online technical training certificate programs integrate simulation software to simulate the operation of real-world manufacturing tools and systems. Developing their talents in labs that are modelled after real workplaces, students can practice their skills and interact with real clients in a safe and controlled environment. Students have the opportunity to develop, test and market products and ideas alongside industry partners.
7. GBC Centre of Continuing Education specializes in technical courses and certificates for people that cannot attend a full-time program.
Programs at the Centre of Continuing Education cover 9 different areas such as Art and Design, Business and Legal Studies, Communication and Languages, Community Services, Health Sciences, Hospitality and Culinary Arts, Liberal Arts and Sciences, Makeup and Esthetics, Technology and Trades.
These continuing education programs are a great solution for people who want to improve their skills, increase their knowledge and move their career in a new direction or simply to pursue a new passion or hobby. Courses are offered in the evenings, on weekends, and online to meet the needs of all students.
8. A GBC crown jewel of our online program,

GBC Tech Training

offers self-paced online technical certificates focused on simulation software and practical exercises.
Tech Training certificates in Automation, PLC, Robotics, Electronics and Electromechanical provide the right balance of theory, practical exercises, and simulations. They are perfect for students who cannot attend an in-class program because of their work and private life obligations. The programs don't have scheduled lessons and exams, so students have the flexibility to work through the courses and to write the tests on their own schedule whenever they want and in their own environment.
Students at GBC Tech Training are trained by working on practical exercises and using simulation software that reproduces the work environment. The PLC Technician Certificate provides the opportunity to use the simulation software PLCLogix 500 that allows students to develop their programming skills, writing, testing, and de-bugging PLC programs. With the Robotics Technician Certificate students can develop their programming skills using RoboLogix, a simulation software that converts student computer into a simulated industrial robot, complete with 3D learning environments.