Online Technical Training Blog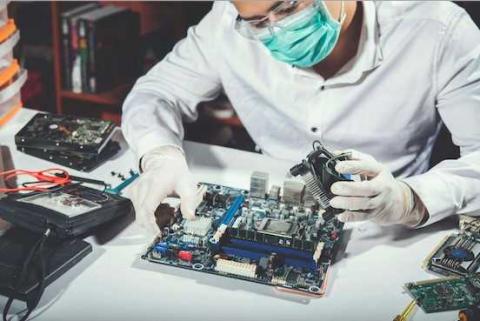 What Skills Do Electronics Technician Students Gain through the GBC Program?
​If you are considering a career in electronics, you may be aware that it is a broad technical field with numerous applications.  Ranging from analog to digital electronics, audio electronics, and even into sectors such as telecommunications, the practical applications and job prospects for you as an Electronics Technician can vary significantly based upon your industry.  However, regardless of the field you build your career in, one thing remains constant: you will need a solid foundation in electronics.  This is exactly what the GBC Electronics Technician program can offer, and graduates will leave the program with a number of relevant skills. 
Electronics Circuit Diagrams
As you begin learning about electronics, you will immediately realize the importance of understanding and interpreting schematic and circuit diagrams.  This program will enable you not only to identify the symbols representing different electronic components, but also learn to analyze, interpret, and modify circuit diagrams.  This is a crucial skill when installing new equipment or trouble shooting problems.
Measuring Instruments and Testing Equipment
Knowing how to properly and effectively use measuring instruments and test equipment is essential for any electronics technician. In this program, you will be introduced to AC and DC measuring instruments, including multimeters, oscilloscopes, counters, and other testing equipment.  You will learn practical applications as well as the safe operation of these instruments.  
Our module on DC measuring units is a practical application to measure and test equipment.  Students must understand the use of an ohmmeter, voltmeter, and how to use and compare their readings in order to complete the scenario and move on.  This simulated experience is invaluable in allowing students to practice their skills in a controlled environment, before encountering them on the job.
Troubleshooting Techniques
Ideally, electronic equipment is designed to work without malfunctions if used according to specifications during its lifetime. However, faults can occur.  The job of an electronics technician is to be able to diagnose the error by using measuring and diagnostic equipment and, if possible, fix the problem.  In the program, you will learn how to analyze, maintain, and repair electronic circuits, as well as analyze passive components.  You will also be introduced to troubleshooting inductors, capacitors, transformers, and amplifier circuits.
In one of the program's simulated applications, technicians are required to troubleshoot a malfunctioning digital controller.  By applying their skills and knowledge alongside the use of an oscilloscope, the student must determine whether discrepancies exist between measured and manufacturers' values, and adjust their calibration potentiometer until the system produces its rated values.  This practical example allows students to troubleshoot a complex problem using multiple tools, an experience that will be valuable as they move into the workforce.
 Critical Thinking and Problem Solving
In addition to giving students a theoretical foundation in electronics, this program will challenge you to employ critical thinking to find solutions to real-world problems.  Each module in the Electronics Technician program begins with a practical application exercise that will require you to analyze a situation, problem solve on-the-spot, and make critical decisions.  With the help of simulation software to bridge the gap between theoretical learning and practical usage, students are also able to test ideas, increase understanding of concepts, and better prepare for the challenges they may face on the job. 
On the job, technicians see problems such as inoperable or malfunctioning equipment, encountering first time defective readings as components come off the manufacturing line, or systems failing intermittently.  As a technician you will need to be able to develop "contingency plans," taking into consideration potential future changes in a system, including expected life, operating conditions, or model changes.  In preparation for these on-the-job tasks, practical scenarios are essential in allowing students to practice and develop these skills.
Setting Yourself Apart
Whether you're looking to start a new career or upgrade your current skillsets, the skills gained through the Electronics Technician program will be invaluable.  The combination of practical and soft skills gained through the program will build your foundation in electronics, set you apart from your contemporaries, and prepare you to tackle challenging problems head-on.  
If you want to know more about the Electronics Technician program, or have questions about the practical applications of an Electronics Technician course, call a Program Consultant, toll-free at 1-888-553-5333 or email us at info@gbctechtraining.com.
​