How to Use GBC Tech Student Forums
Monday 10 Jul 2017
Congratulations, you have enrolled in our online technical program and taken the first step toward a technical education to move your career forward.
Along with the program material, on a USB or DVD, you now have access to our student forums where you can meet other students in the program, ask questions regarding the program material, get help with difficult concepts or find tutorials on difficult course concepts.
This blog will help you navigate through our forums and will hopefully contribute to an even more positive experience while working through the program.
Logging in
Log in to the Resource Center, at www.gbctechtraining.com, using the login and password you were sent in your Registration Confirmation email. Then click on the Student Forum link, on the left hand side to get to the Student Forums. In the picture below you will see it highlighted in a red circle. When coming from the home page click the student forum link and you will be taken to this main page.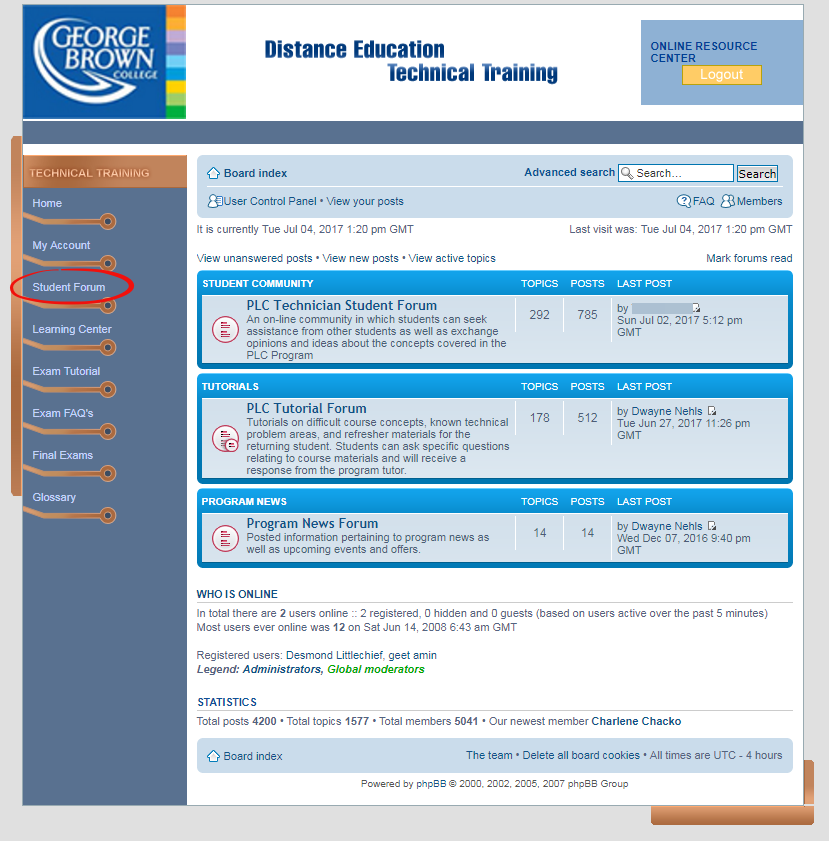 Navigating the forums
When you enter the Student Forum, you will notice it is categorized into three forums; Student, Tutorial, and News.
1. Student Forum - Here you will see other students' questions and be able to contact other people taking the same program.  You can post about the program, talk to other students or form study groups to help you tackle the modules.  You can post your question one day and come back to it to see if someone answered it on a different day.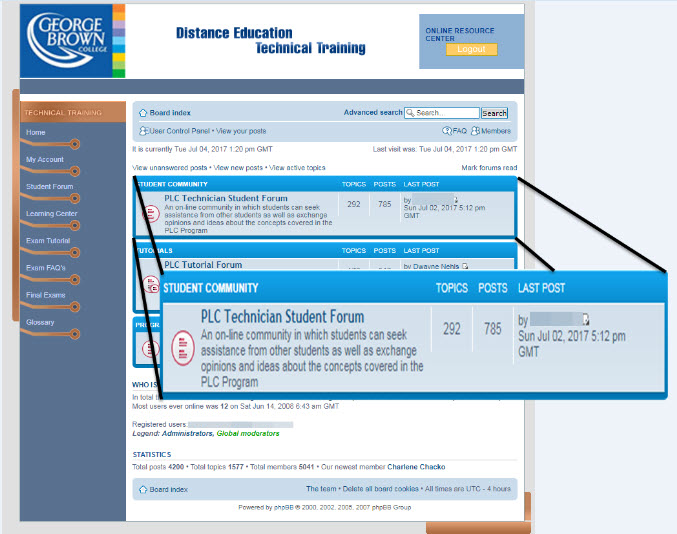 Here's an example from our PLC Technician Forum.
In this example we see a student asking about a program and getting help from other students. You can see multiple students collaborating to help with the problem. If you find yourself in a similar situation feel free to always ask fellow students for help.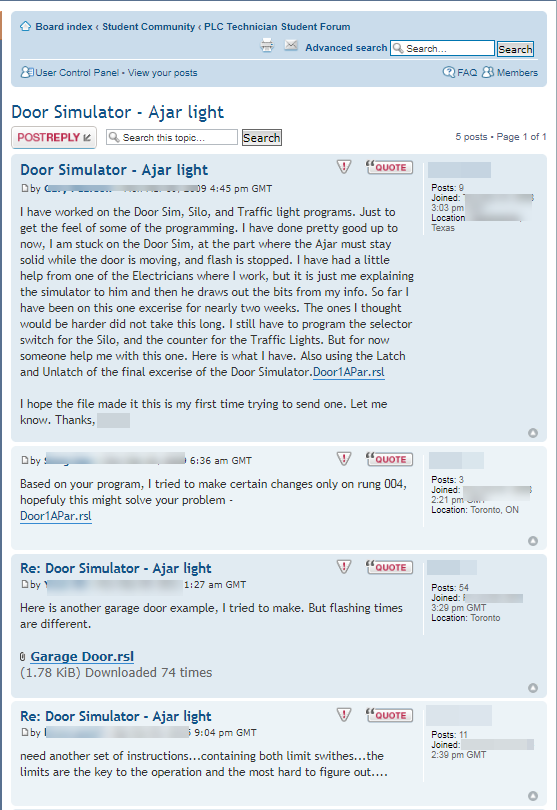 2. Tutorial Forum - In this forum you will find tutorials and examples to help work though potentially difficult material and concepts. Or you can direct specific questions about course content to one of our online tutors. 
You can use the tutorial forum as a tool to supplement your learning or to review before you take your module exams. A program tutor will respond to your course material questions in a timely manner and will help guide you through your program.
This forum also contains an archive of the most commonly asked questions or concepts. It is divided into modules so that it is easier to find the help you need. With this extra resource you can be very confident in your mastery the program concepts.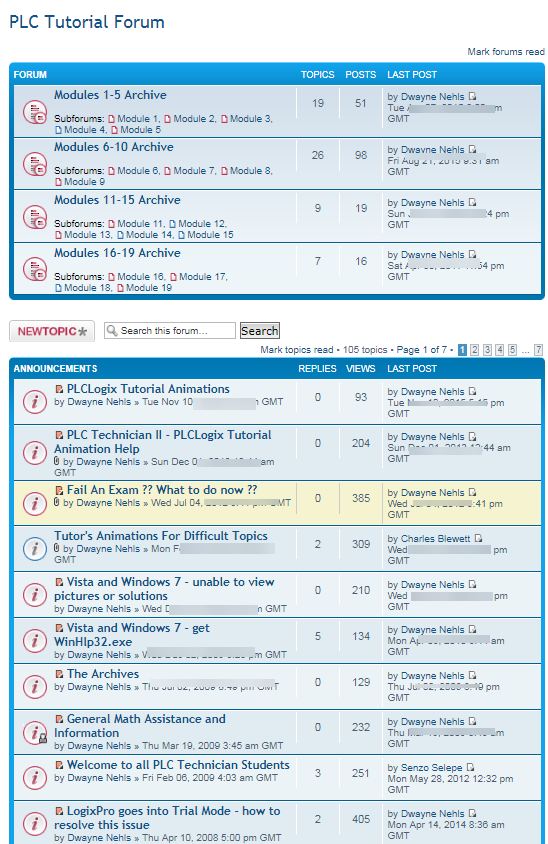 Below shows an example of an animated tutorial. We understand that our students have different ways of learning so we provide examples in various way to cater to every type of learner. These videos also help visualize the harder concepts and give simple yet effective examples.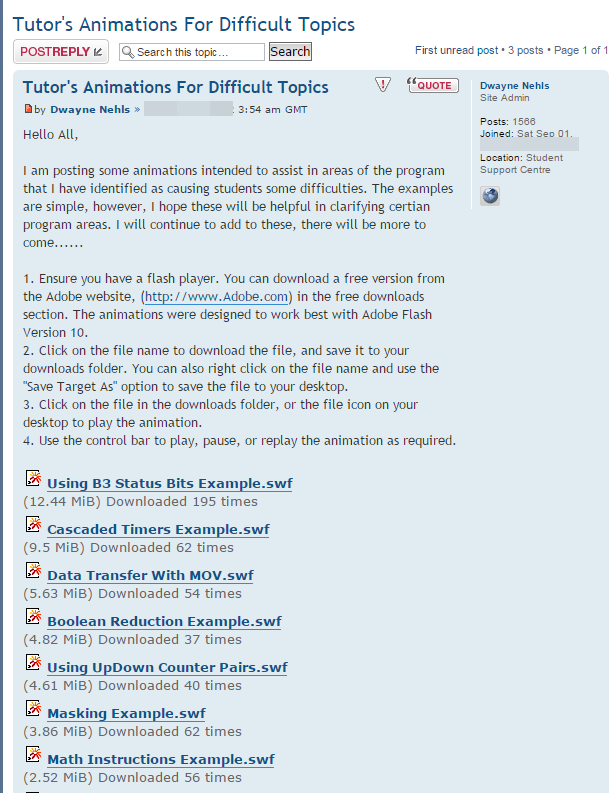 3. News Forum - This forum contains the latest news about our programs and updates important announcements from the program administrator. Here we post job listings and news about the industry. To see even more up to date news follow our Twitter or like our Facebook page.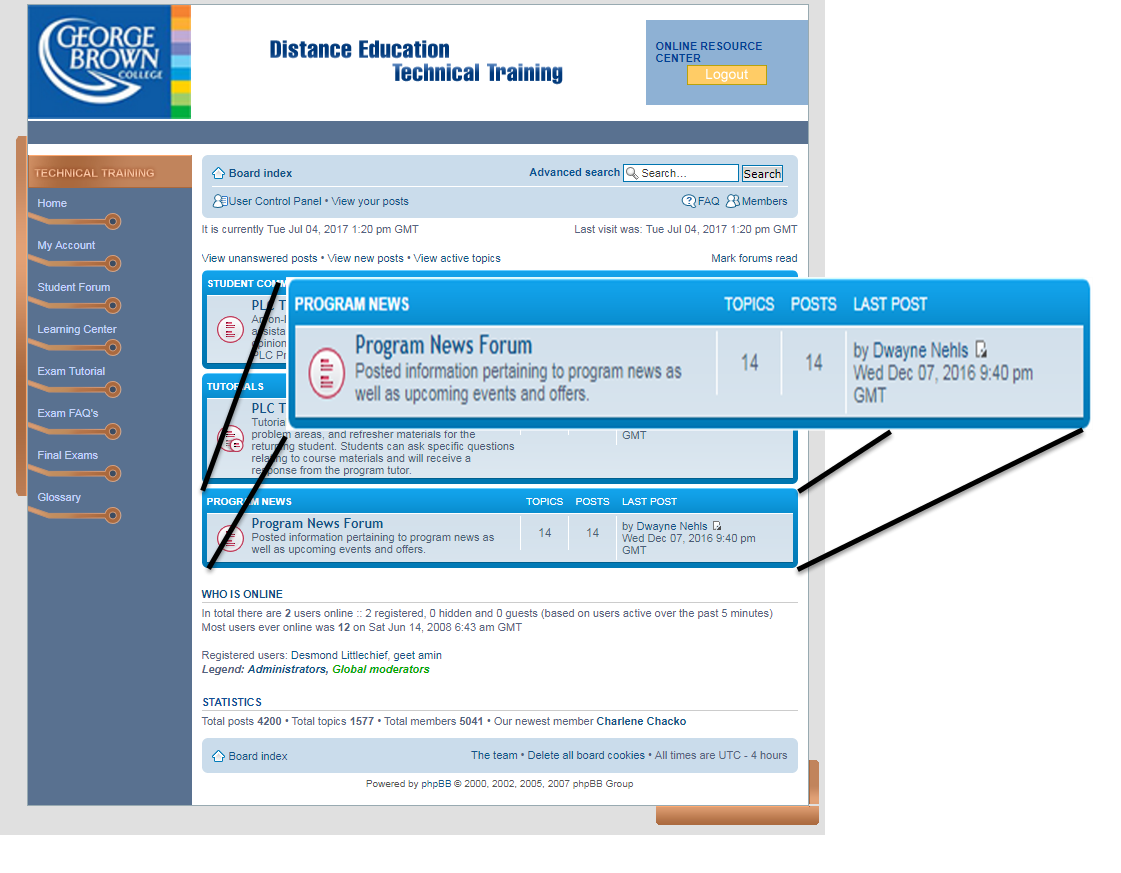 The program news Forum is frequently updated and will help you keep in touch while you are within the forums.
It also contains important information that could help you in your job prospects. This is where we show you how to get LinkedIn information directly to your email so you never miss important messages from the group.
When to use the search function in the Forums
There are many questions that have been answered and posted in the forums, but if you cannot find your particular question quickly, then the search function comes in handy. Just enter a term in the search box located on the index, forum or topic pages.
Why does my search return a blank page?
Your search returned too many results for the webserver to handle. Use "Advanced search" and be more specific in the terms used and forums that are to be searched.
How to post a new topic
If you can't find a specific topic in the forum you can create the thread yourself. To post a new topic in a forum, click the relevant button on either the forum or topic screens.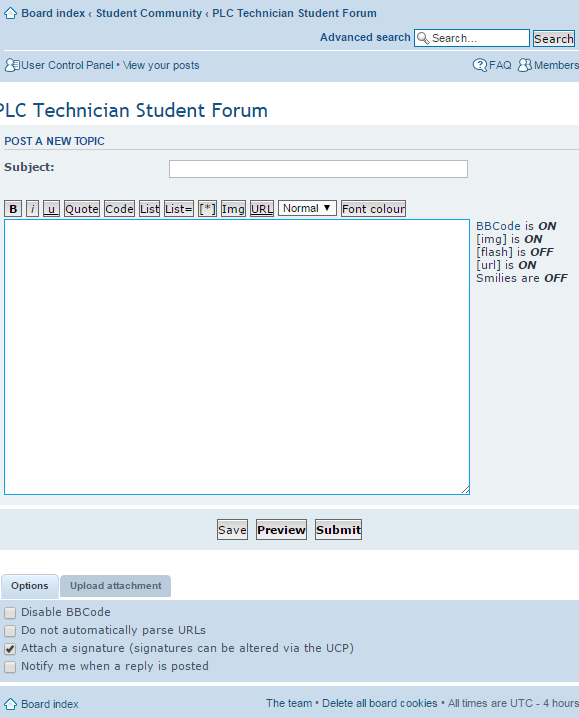 It will take you to this screen and you can enter a subject at the top. Then in the main body you can give the details about the subject and then you can either save, preview how the topic will look or submit and post it right away.
If you have followed all these instructions, you should be able to navigate the forums efficiently. With the help of other students, our program tutor and the latest up to date news on the program, the forums can be a powerful tool to advance your progress in the programs.
If you have any more questions, please call our Technical Support Consultants at 1-866-279-1457 at support@gbctechtraining.com.