Online Technical Training Blog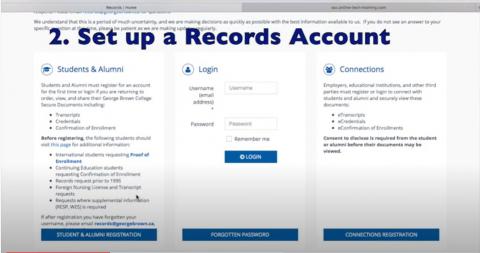 How to Access your eCertificate when you Graduate your Program
 While we still are mailing Certificates; you are now able to access your Certificate as an online eCertificate.  
Key Information

 
What does it cost to access my eCertificate?  
It's free! There is no charge to download your eCertificate, and it counts as an official documentation of your program completion. 
How long after I finish my program can I download my eCertificate?
Your eCertificate will be available to you within two weeks of completing your final module exam.  If you graduated prior to March 12, 2020 and would like a copy of your eCertificate, please get in touch with us at info@gbctechtraining.com and we will create one for you.
Will I still receive a printed, official copy of my Certificate?
Of course! We will automatically mail you a copy of your Certificate, this can take 4-6 weeks.   
How to Access Your eCertificate

 
Please follow these steps to view and print your eCertificate:
Creating a Record Account: 
Go to http://records.georgebrown.ca/
1.    If you do have a Records account, you can login with your username and password.  If you do not already have a Records account, click "Student & Alumni Registration".  Note, you will not use the same Username and Password that you use to log in to the Resource Centre.  If you have forgotten your Student Records Username or Password, please use your personal email to retrieve it here.
2.     After clicking "Student & Alumni Registration", enter your personal email address and create a password. 
3.     On the next page, enter your student number, your first name, last name, and date of birth. These details should match what we have in our student system. If you forgot any of these details, you can click forgot my details, and then click submit. This will be reviewed and approved within 1 business day. 
4.     If the details match, then your account is automatically approved. You will be sent an email verification to the email address you registered with. Click the verification link within 24 hours to verify your Records account. 
Viewing your eCertificate:
1.     From your student dashboard page, click "View and Order Secure Documents" and  Click the menu button in the certificate box.
2.     From the menu options, click "View eCertificate". It will open in a PDF format. This can be downloaded to your computer.   
Congratulations on your hard work, you are now ready to begin your job search—or let your employer know you have completed your program!  Your eCertificate can be printed, emailed to employers, or admired from the comfort of your own home.  
If you have any questions accessing your records account or certificate, please contact records@georgebrown.ca.