Online Technical Training Blog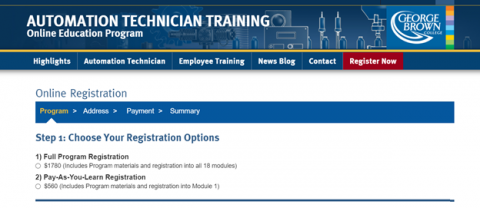 How to Register into GBCTechTraining Online Certificate Programs
So, you've decided to register for one of our online programs which is great to hear. Congratulations and welcome! Our program registration is available on a continuous intake basis, meaning you can register today and start the program immediately.
The registration process is fairly easy. We offer 3 convenient ways to register depending on your preference:
1- Register by phone
You can register by phone with one of our Program Consultants by calling us toll-free at 1-888-553-5333.
2- Register by mail
You can register by mail by printing a hard copy of our Automation, Robotics, PLC, Electromechanical, Electronics program registration forms and sending it to us.
3- Register online
You can simply register online through our Automation, Robotics, PLC, Electromechanical, Electronics registration pages. (For demonstration purposes we will use Automation Technician Online Training Program). We provide two options for registration. You can either select the Full Program registration and pay for all modules at once or you can select the Pay-As-You-Learn registration option and pay for each module individually as you continue your training.
Once you choose your preferred registration option, you will need to enter your contact information.
After you've filled all the required fields, you will click "Next" and move on to the next page which is the payment page.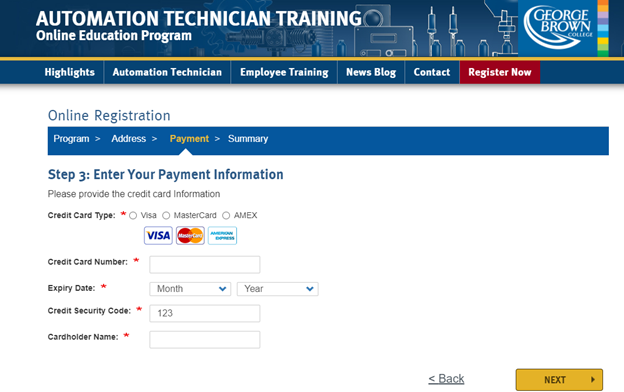 On the payment page, you will be required to fill in your credit card information. At this step, we would like to ensure you that our websites are protected using an SSL certificate to allow secure payment processing. Then click next and you will see a summary of your registration. If correct, click "Confirm" and that will bring you to the end of our quick and simple online registration process.
Check out this video where our Business Development Manager, Scott, walks you through the registration process to help you gain a better understanding!
We are excited to have you as a student! If you need further assistance, give us a call toll-free at 1 888-553-5333 or email us at info@gbctechtraining.com.