Online Technical Training Blog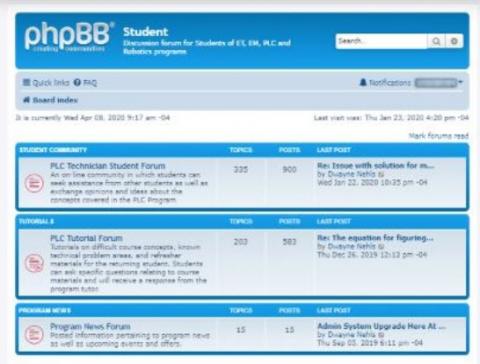 How to Use GBC Tech Student Forums
Online education has brought numerous advantages to learning, such as making education more accessible, and in some ways, more interactive and engaging. However, it has also brought some unique challenges. Feelings of isolation, difficulties with self-direction as well as time management issues are common among students in online courses. Students may feel isolated if there aren't resources or opportunities available to interact with faculty or other students.  While students don't have face-to-face interaction in online learning, there are still many opportunities for students to reach out for assistance or direction. Students can take advantage of web based supplemental resources, as well as make the most of available online communication tools such as Student Discussion Forums.
GBC's student discussion forums are meant to replicate in-class interactions and are generally considered to be an important resource in online education. Actively engaging on discussion boards by asking and answering questions helps students engage better with the learning material. Students of GBC's Online Technical Training programs have access to the online discussion forums where they can ask and answer questions about program modules, get help from an online tutor, and look through an archive of the most common questions asked by other students.
Types of Discussion Forums 
1. The Student Discussion Forum 
Here, students who are experiencing difficulties with a particular module, concept, or formula, can post questions for others allowing students to collaborate on problems and questions, network, and potentially find a study partner or form study groups.
Example:
In this Student Discussion Forum example, we see a student asking about a program and getting help from other students. You can see multiple students collaborating to help with the problem.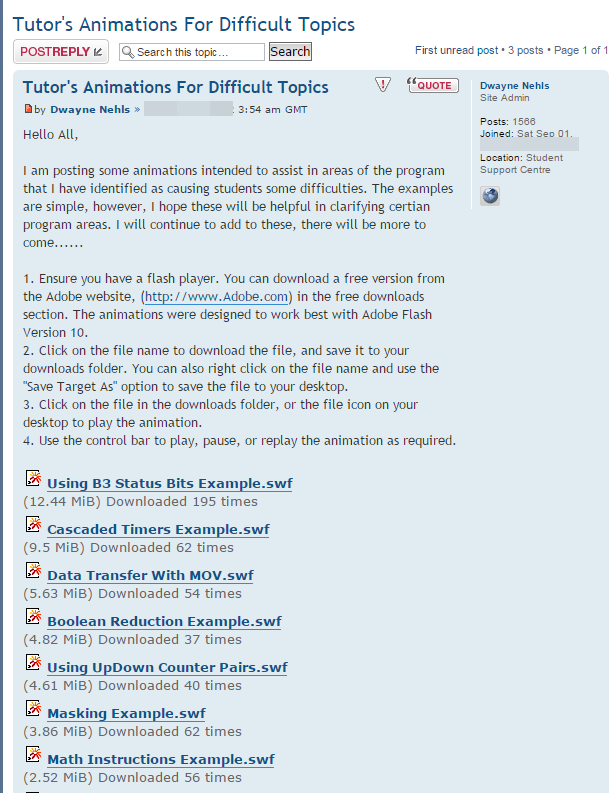 2. The Tutorial Discussion Forum 
In this forum, students can direct specific questions about course content to one of our online tutors. In addition, tutorial materials focusing on difficult program concepts are also available. These materials consist of instructional guides, animated demonstrations, equation lists, and other important and useful content. Students can also search the archive containing the most common questions asked by other students.
Example:
In this Tutorial Discussion Forum example post, a program tutor is providing video animations for topics identified as especially troublesome to students. We understand that our students have different ways of learning, so we provide examples in various ways. These videos help visualize the harder concepts and give simple yet effective explanations and step by step instructions.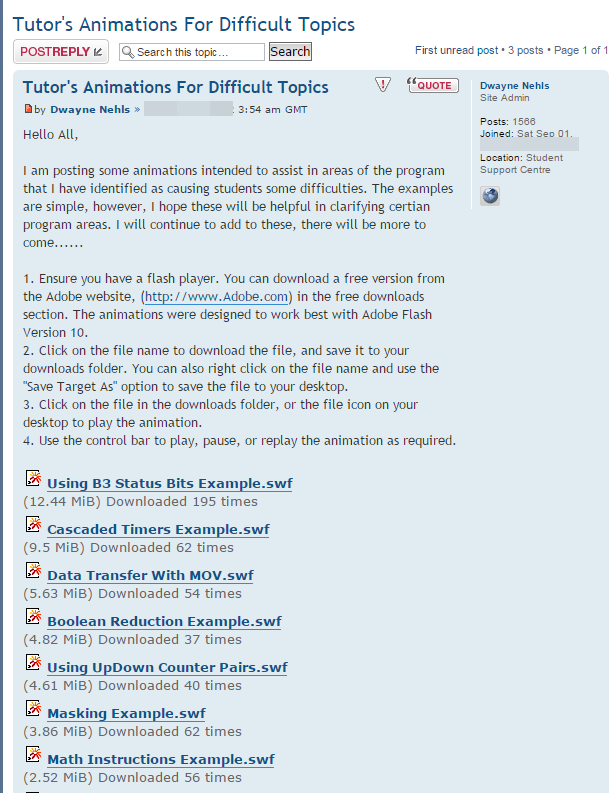 The Tutorial Discussion Forum is there for you to use along your journey as a technical training student. In addition to animations, we have created an Archive section in which frequently asked questions from students are stored and can be reviewed by all. This Archive is organized by Module. 
3. The Program News Forum 
This forum allows students to keep up-to-date on important announcements realted to George Brown College's Online Technical Training Programs. 
When to Use the Search Function in the Forums
There are many questions that have been answered and posted in the forums, but if you cannot find your particular question quickly, then the search function comes in handy. Just enter a term in the search box located on the index, forum or topic pages.
Why does my search return a blank page?
Your search returned too many results for the webserver to handle. Use "Advanced search" and be more specific in the terms used and forums that are to be searched.
How to Post a New Topic 
If you can't find a specific topic in the forum you can create the thread yourself. To post a new topic in a forum, click the relevant button on either the forum or topic screens.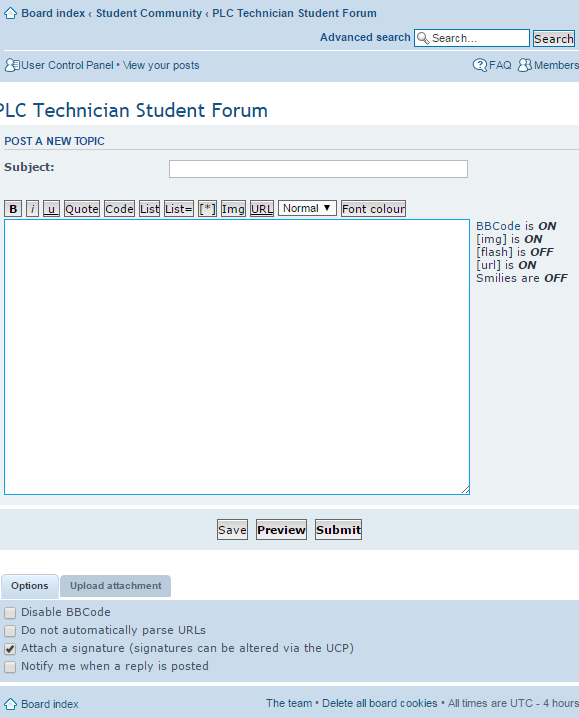 It will take you to this screen and you can enter a subject at the top. Then in the main body you can give the details about the subject and then you can either save, preview how the topic will look or submit and post it right away. If you have followed all these instructions, you should be able to navigate the forums efficiently. With the help of other students, our program tutor and the latest up to date news on the program, the forums can be a powerful tool to advance your progress in the programs.
Conclusion
The Student Resource Center is there for you to use along your journey as a technical training student. Our goal is to support you throughout your online education experience, whether that be with resources to help you study for module exams like the glossary or building a sense of community with other students in the discussion forum. All these things are available in one convenient location so that you don't have to feel isolated even if you're studying online at home.
GBC Technical Training has a Support Center, and the support line is available from Monday to Friday from 9 am to 10 pm (EST) and Saturdays and Sunday from 9 am to 5 pm (EST) for students to get help from our Support Consultants. Our Support Consultants are trained specialists who are experts with the program content, and can provide administrative, technical, and tutorial support.