Online Technical Training Blog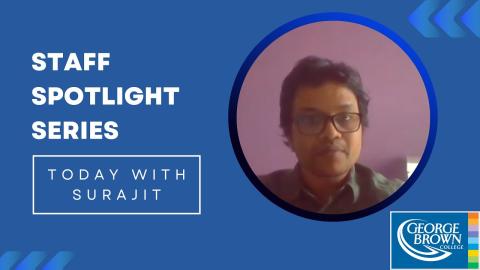 Q&A With Surajit: Our Support Consultant at GBCTechTraining
We recently sat down with Surajit, one of our support consultants at GBCTechtraining, to talk about his role in technical and tutorial support. Surajit shares his thoughts about what his typical day is like, some common technical challenges faced by students, and how he and the other support team members can help.
Watch the full video by clicking the link below or you can continue to read the Q &A with Surajit.
What's your role with GBCTechTraining?
I am a Support Consultant at GBCTechTraining, helping students with a range of tutorial and technical problems they face when taking our programs, such as downloading their program material to explaining difficult concepts they come across while they are studying.
How long have you been with GBCTechTraining?
I have been working as a Technical and tutorial support consultant since 2019 while completing my Electronics Engineering Technology Advanced diploma. As a part of my diploma, I did my 2-coop terms here as a Co-op Intern. When I graduated I moved into a full-time Support Consultant position,
What do your days normally look like?
I start my shift from 10 am to 6 pm and respond to student's technical and tutorial issues by phone and email. The problems can be simple or more complex like assisting with the installation of program material, solving content-based tutorial questions, or helping a student submit an online test.
How does your job impact the operations of GBCTechTraining?
I am around Monday to Friday, but we provide support in the evening and weekends too. Tutorial assistance is very important throughout the program. If anyone needs help with math or programming, for example on the ladder logic programming in the PLC program, we can help! There are different ways students can reach me and other support staff though a dedicated technical and tutorial support phone line, or email or even our online discussion board. These forums are extremely helpful to the student's learning experience.
What are the most typical questions you get asked?
1) Will the simulation software help them in building their own projects?
2) What are the prerequisites to take the program?
3) Can they enter the job industry after completing these programs?
Do you have any advice for students?
I always tell our students to go through the practice exams at the end of each module These practice exams will help get you ready for the actual exam.
If you want to learn more about the George Brown College online technical and tutorial support  visit our website, email us at info@gbctechtraining.com or call us on our toll-free at 1-888-553-5333.