Online Technical Training Blog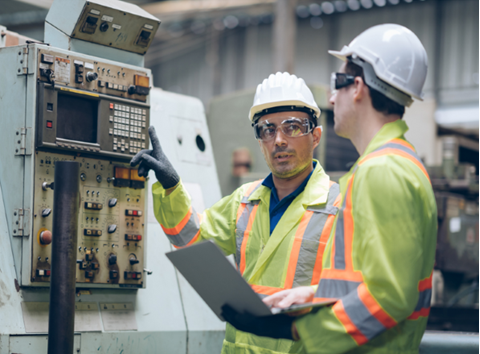 Skills AT Students Gain with the GBC Automation Certificate Program
If you're considering a career in automation, you must already know that you'll be working on a wide range of control systems, from simple fuses and motors to sophisticated electronic computer interface boards, programmable logic controllers (PLCs), robotics and much more. Our Automation Technician program covers the content of Electromechanical systems, PLCs, Robotics, Automation controls and the core principles and operations of an automated system. And as a graduate, you will be able to design, install, troubleshoot and maintain electronic equipment used in modern industrial processes.
Let's take a deep dive into what skills you will gain in our Automation Technician program by walking through tasks performed by an automation technician on a typical day.
Maintaining Electromechanical Systems 
Many manufacturing facilities: from pharmaceuticals to food, to energy, and use conveyors and robotic arms for pick and place, palatizing and packaging. These systems encompass several technologies. For example, a conveyor system has a driving unit which consists of AC and DC motors, electrical/electronic controls and even frequency convertors for speed adjustments which are driven either directly or through reduction gears, sprockets, and chains. An automation technician needs to be capable of performing routine preventative maintenance and repairs of electronic/electrical and mechanical equipment.
Our Automation Technician program covers topics of Motors and Controls Circuits, Digital Electronics and Industrial Process Control to name a few, where you learn the fundamentals of mechanical and electronic controls needed in such systems.
Implementing your PLC Skills 
In a bottling plant or packaging facility, PLCs are used to monitor product counts, defects, packaging, and transfer of products from one area to another. On the factory floor, technicians working on these systems must be able to implement new applications and processes by preparing applicable ladder diagrams and maintain the existing system. Designing, troubleshooting and maintenance of PLCs are all skills learned from this program.
Our programs simulate applications using RSLogix 5000, and focuses on areas of Times, Counters, Programming Restrictions, Circuitry Safety, Data Handling and using shift registers and coming math functions to control processes. It delves into basic concepts needed to begin programming of coils, contacts, sequences, times, and counters, as well as the file structure used to store instruction information, status bits, and program variables. With each new programming instruction introduced in the program theory, an example of its utility and application is demonstrated by way of accompanying lab project files for simulation.
Programming Robotics 
We have already discussed maintenance and repair of electrical/electronics equipment, operation and maintenance of PLC; now let's turn to robots in the application of a conveyor and palletizing system environments. In manufacturing industry today, conveyor and palletizing systems have become necessary equipment.
Our simulated labs use Robologix simulation software and includes application-specific programs for conveyor transfer boxes and palletize/de-palletize boxes, for a 'pick and place' 5 axis robot. These task-oriented labs are built for you to familiarize and learn the step-to-step processes. You'll be able to learn how to design, modify, and edit robotic programs without tying up programming time on an actual robot.
With 450 pre-made lab projects, our automation program offers lots of learning and preparation to assist and help you excel in a career in industrial automation. Students will not only know how to fix and troubleshoot systems, but also the reasoning behind the way a system was built, and how problems can be prevented in the future. Once you have completed this program, you'll be well-rounded and capable of launching your career in a new direction.
If you want to know more about the Automation Technician program or have questions about the practical applications of it, call a Program Consultant, toll-free at 1-888-553-5333 or email us at info@gbctechtraining.com.