Online Technical Training Blog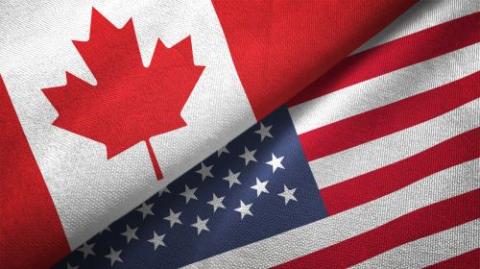 What's the difference between an U.S. Associate's Degree and a Canadian Diploma?
At GBCTechTraining, we're often asked the question: how does a two-year associate degree completed in the United States compare to a two-year diploma program earned from a Canadian college? It's an important question to ask, particularly for prospective students based in the U.S. who may be interested in one of our programs but aren't quite sure how they measure up. It's also a fair question to ask considering the costs associated with studying abroad and the time commitment that will have you spending time away from family and friends. Close as Canada and the United States may be (both physically and historically), there are many differences between the two nations so it's best to have all the information you'll need to make a decision.
So, how do they measure up?
Since post secondary education in Canada is, for lack of a better term, decentralized (meaning each province is responsible for overseeing education within their respective borders), only one Canadian province (British Columbia, at the time of this writing) offers "American-style" associate degrees. But it should also be noted that if your Canadian academic destination is a province other than British Columbia it does not mean you'll be getting any less education for your buck. Let's take a few minutes and compare the two now.
●  Both associate degrees and diploma programs are typically two-year programs and can be used as starting points for students who wish to pursue further education.
●  Associate degrees and diplomas take a more skills-focused, hands-on learning approach best suited for students who are hoping for a more direct transition into the workforce.
●  In the U.S., there are colleges that specialize in associate degrees and allow students to continue to a four-year college to complete a degree. In Canada, the diploma is similar in that it offers an intermediate, credit-bearing option for students with the possible secondary goal of a bachelor's degree.
●  Some students pursue unique careers that are achieved directly through a two-year program and can't be found at the four-year level. This program diversity is a large reason why diploma and associate programs draw students away from lengthier programs available at universities.
●  Affordability is always a major concern for students with rising tuition and living costs. For many, a two-year associate degree or diploma program is the most cost-effective choice as they are much less expensive than a bachelor program and can be completed much more quickly. For those that find themselves between careers or looking to capitalize on the growing demand in a particular field, these comparatively short-term programs are sometimes the best, most concrete path to changing their situation and the situation of their families.
●  Employability. Depending on the competitiveness of the field, getting in on the ground floor is a crucial steppingstone on the path to your desired position. With the practical, hands-on, and industry-focused knowledge gained during your two-year program you will be well prepared for the challenges that lie ahead.
How does a GBC Technician Certificate fit into the mix? 
It should now be clear that a diploma and an associate degree are quite similar - but what about the GBC Technician Certificate? In Canada, are certificates the same as a diploma? Will a certificate help you find work? Generally speaking, both diploma programs and certificate programs are designed to give you the knowledge and tools you'll need to enter into a specific field. Though each can be completed at a Canadian college or vocational school, the main difference between diplomas and certificates is the time it takes to earn them; as stated above, diploma programs generally require two years of study whereas many certificates can be earned after completing just one year of study and many are not full time. A GBC Technician Certificate stands apart from both for the following reasons:
●  It is even more specific, as it omits the general education requirements of a diploma or associate degree. You'll be gaining technical skills, experience, and credentials to transfer to the workplace right away.
●  Earning our Technical Certificates are designed to be adaptable and to be amenable to your schedule. Translation: learn the material at your own pace. It's hard enough to switch careers or even save up enough money to update your skills to something that is more in demand. At GBCTech training, you'll have the flexibility to continue to work a full-time job or spend time with other prior commitments while simultaneously completing the courses that will change your life, from the comfort of your own home.
●  The total cost is much lower than tuition costs for other two-year level programs. We also offer a pay-as-you-learn option for those who wish to try out the program, and then register later into modules when it fits their budget.
There are however some important similarities to mention. Like diplomas and associate degrees, a GBC Technician Certificate is a great stepping stone to continue to higher education. The program credits are referred to as Continuing Education Units (CEUs) which can be applied for transfer. A prime example of this is the Electronics Technician Certificate Program, which has four established pathways for students who want to continue learning and earn a diploma or bachelor's degree.
All else being equal, Canada is a great place to pursue a diploma program. Here, you will receive a world class education, and have the opportunity to gain meaningful work experience. Canada is also home to a robust tech industry that shows no hint of slowing down any time soon.
No matter where you start, a GBC Technical Certificate, diploma, or associate degree are all valuable education choices, depending on your needs.
If you have questions about GBC Technician Certificates, give us a call toll-free at 1-888-553-5333, or email us at info@gbctechtraining.com. 
originally posted 2018