Online Technical Training Blog
Debunking Four Myths About Adults in Online Tech Training
Online courses and programs have gained massive popularity in the past few years, attracting a large and diverse population of learners. Young adults are no longer the only students in these programs—recent research indicates that online students are becoming younger and older! High school students are enrolling in online college courses to advance their education and career, and older adults are enrolling to change careers, gain credentials in their current career, and to pursue lifelong learning.
George Brown College School's of Distance Education's Technical Training Certificate programs are available to students of all ages from different education and professional backgrounds. Online technical training as an adult can have its challenges but many misconceptions exist that can deter enrolment.
So let's look at and debunk four myths about age and online technical training!
Myth 1: It's too difficult to pursue online technical training for an adult with a busy lifestyle
Adult learners have challenges that can make lifelong education difficult, such as work, family, and other responsibilities, but online technical training can allow students to pursue education with schedule flexibility. Studying online also means that students don't have to worry about commuting to campus. This format can allow students to study anywhere, which makes it easier to balance education, family, and career. In fact, 40.9% of distance education students are over 30 years old. 
GBC's Technical Training Certificate programs allow for maximum flexibility as they are completely self-paced and have no time limits for completion. This means that students can study when they have time and take the exams when they are ready, compared to other online programs that last a 4 month traditional semester and have defined due dates for projects and exams. The average completion time of our programs is 6 to 8 months with part-time study, but students can finish at their own pace, often faster if they have experience or really push themselves.
Myth 2: Older adults lack the strong computer skills needed in online technical training
Most online course platforms are designed to be easy to use, and technical support is provided to help students get familiar with the platform and troubleshoot issues. While our Technical Training Certificate programs contain technical content, students don't need to have a high level of technical computer knowledge to use the simulation software, access the online Student Learning Resource Center, or to be successful in the program. These programs are easy to navigate and user-friendly, and technical support is readily available for students by phone, email, and in the forum.
The GBC Technical Training blog contains information that covers computer-related help, such as how to write an exam, how to use the student forums, and minimum technical computer requirements to take a program.
Myth 3: GBC Technical Training certificate programs are only for adults with related training or work experience
While having prior related training or work experience is beneficial, it is not required to enroll in our programs. Minimum requirements for enrolment are a high school diploma or mature student status, which means that students can take these programs after high school completion or with at least two years of work experience. Our programs are not only a great choice for experienced professionals that want to earn industry credentials, but also for those who want to enter a technical career but have no related experience. Our programs provide in-depth content and online tests to ensure students master the material, and are well prepared for success in the field.
Students can also choose to continue their studies at GBC or partner universities to earn diplomas and degrees after earning their certificate. For example, graduates of the Electronics Technician Certificate program can take another seven courses to earn the Electronics Engineering Technician Diploma at GBC.
Myth 4: Being an adult back in school can be intimidating
Adults who have been away from school for a while can feel nervous and out of their comfort zone when returning to school. Responsibilities such as managing grades and schoolwork while balancing work and family, worries about fitting in with younger students, and doubts about personal abilities all can make adult education seem daunting.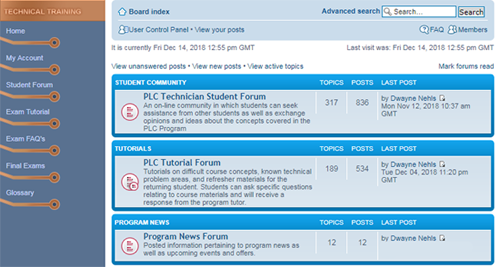 However, GBC Technical Training has a wide variety of resources to support and help our students succeed in the programs! Discussion forums, an online Student Learning Center, online tutors, and support consultants that provide administrative, technical, and tutorial support are examples of such resources. For those who are worried about fitting in, our technical programs are completed entirely online without ever having to interact on campus with other students. And for those who do want to interact with other students about course content and network, the discussion forums and Facebook group offers a great opportunity.
Conclusion
Online technical training can be incredibly rewarding, but it can be challenging without the right support. This has led to many misconceptions about the format, but the reality is that there are many supports designed to address the concerns and needs of students at any age.
Whether you want to change careers, are looking to gain credentials in your current career, or want to pursue lifelong learning, GBC's Technical Training Certificate programs offer many advantages to students of various ages and backgrounds.
If you're interested in finding out more about the Online Technical Certificate Training Programs at George Brown College, contact us! You can speak to a Program Consultant toll-free at 1 888-553-5333 or email us at info@gbctechtraining.com.