Online Technical Training Blog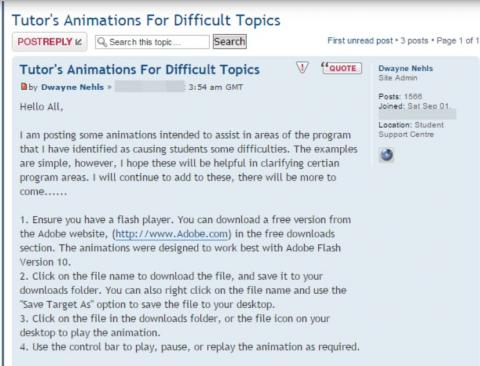 How the GBC Tech Training Student Resource Center Can Help You Succeed
At GBC Tech Training, we understand how it can be challenging to get the personal, technical and tutorial support you need when pursuing online education, especially when support is critical to your success in the program. As well, not all online programs offer the same level of support to help you complete your training, which is why our online technical training certificates stand out. Our students have access to the Student Resource Centre which contains a large variety of unlimited resources to help our students succeed and enrich their learning experience.
What are some of these services and how can they help?
Access the Discussion Forum
The discussion forum is an integral part of our Student Support Center, and is divided into three separate forums available for our students to explore: the student, tutorial, and news section.
1. Student Section
Here, students who are stuck on a particular module, concept, or formula are able to post questions for other students or our online tutor for help, and even connect with other students to collaborate on problems and questions, network, and potentially find a study partner or form study groups.
2. Tutorial Section
Numerous tutorials on difficult program concepts are also available consisting of instructional guides, animated demonstrations, equation lists, and other important and useful content. Students can also search the archive, which contains the most common questions asked by other students.
3. News Section
The forum allows students to keep up-to date on important announcements related to George Brown Technical Training.
For more information, check out our guide on how to use the GBC Tech forums!
Explore the Learning Center
The Learning Center is another valuable resource available to students in our online technical certificate programs. Here, students have access to supplemental learning materials that will help them better understand and expand their knowledge of the programs' material. Worried about an online exam you have coming up for one of your modules? At the Learning Center, students can take module challenges to test their knowledge and improve their confidence when writing an exam.
Glossary and Videos
The glossary is a very handy resource of terms and definitions that students can refer back to at any time during their studies. The search bar allows you to look up any term you want to know the meaning of, or simply want to be reminded of something you have forgotten. This makes it a useful tool and resource to study for module exams. Don't be afraid to take advantage of it and memorize some terms! You can also watch and review some of our videos on the module content if you need further help, or to reinforce concepts.
Take Advantage of the Student Resource Center
The Student Resource Center is there for you to use along your journey as a technical training student. Our goal is to support you throughout your online education experience, whether that be with resources to help you study for module exams like the glossary, or building a sense of community with other students in the discussion forum. All these things are available in one convenient location so that you don't have to feel isolated even if you're studying online at home.
Share Your Thoughts with Us
What are some of the learning challenges you deal with and what are the resources you use? What learning style works best for you?
If you're interested in finding out more about the Online Technical Certificate Training Programs at George Brown College, contact us. You can speak to a Program Consultant toll-free at 1 888-553 5333 or email us at info@gbctechtraining.com.