Online Technical Training Blog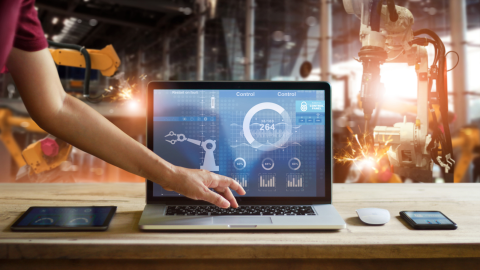 Upskilling your Manufacturing Employees to be Future-Ready
The manufacturing industry is facing many challenges in today's fast-paced world. We see the constant change from technological innovations being introduced, almost daily. In this environment, it is challenging to keep your employees up to date and even harder to find the new skilled workers you need for the technology you are committed to. To future-ready your workforce, employees must be given the opportunity to maintain and develop new skills through continuous training and learning.
Challenges Faced by the Manufacturing Industry
Challenges to manufacturing employers include:
1. A Skills shortage - When employers are unable to fill openings in a technical occupation or a subset of that occupation, a technical skill shortage exists. Factors responsible for skills shortages include a general lack of investment in technical training and skills development, rapid structural market changes combined with low overall unemployment, a cyclical surge in employment in a particular sector of the economy, and specific weaknesses in the technical training marketplace

.
2. A Skills gap -

When your present workforce's skill set does not match the abilities they require to execute their jobs, then there is a skills gap. Today, many businesses believe that their major talent deficit is in the area of hard technology skills. Similarly, employees may be weak in soft skills that are required to accomplish the technical aspects of their jobs well.
These constraints on, and limitations in, the labor market combined with record retirement levels of baby boomers are directly responsible for thousands of unfilled or underserved technical positions in the manufacturing marketplace.
Staff attrition can also be a significant factor when working on maintaining a workforce that includes demanding technical jobs. According to go2HR, research suggests that 40% of employees who do not receive proper training will quit within the first year, leading to even higher costs and vacant critical technical positions.
Importance of Ongoing Employee Training
Upskilling a current employee that you have spent time with building a positive relationship with can be more cost-effective than the hiring of new employees. Corporate training is a financial and time commitment, but it is also an investment in your most important asset, your employees. With all the advancements in technology taking place, developing a future-ready staff might mean the difference between an organization that is prepared for abrupt change and one that falters.
Employee training and development programs are an excellent way to diversify your organization's knowledge base. Filling the gaps in your workers' professional knowledge is critical in every sector to keep them productive and satisfied. Well-trained employees are able to offer more to the organization if they are given opportunities to build more comprehensive skill sets. The higher your rewards, the more interested and invested people are in working towards your company's goals. Training is a key method for retaining good employees, building loyalty and dedication, and helping them become future-ready.
Benefits of Effective Training
Specific benefits of training include:
1.

Improved relationships with current staff - Job satisfaction may be improved with proper training and great experiences. It may also make it simpler to retain individuals by allowing them to become more involved and devoted to the business
2. 

Reduced staff turnover

- A successful training program may boost employee morale and dedication. It usually leads to more job effectiveness, managing conflict, and improving general management abilities that contribute to lower employee turnover.
3.

Increased productivity

 - 

Employees gain confidence because of complete and proper training, which makes them more productive. It enhances an employee's requisite skill set, while also advancing the organization's overall growth and development.
4.

Less downtime while training new staff

- Less downtime means less production time is lost, which earns money and saves resources by reducing manufacturing waste. Efficient training helps employees to identify and resolve problems more efficiently.
Here are two examples of a government-funded program offering training grants to employers.
Canada- Ontario Job Grant

- The

Canada-Ontario Job Grant

(COJG) provides financial assistance to companies and enterprises in Ontario that want to provide training to current and new workers. COJG allows companies to invest in their workforce by covering the cost of training, updating employees' skills and knowledge, and increasing career progression prospects for employees.  

Second Career

-

Second Career

is an Ontario

government funding program that provides funding for qualified persons to receive skills training in high-demand sectors in the province of Ontario. Tuition, books, transportation, and basic living expenses of training are covered by the Second Career grant program

.
Upskilling your employees is critical for an organization to become more effective and future-ready. To find out how GBC technical training programs can help you future-ready your employees, contact us at info@gbctechtraining.com or 1-888-553-5333 to speak with a Program Consultant.