April Tech Bytes
INDUSTRY NEWS
What's Holding U.S. Manufacturing Back?
There has been an ongoing national conversation about bringing manufacturing back to the United States. The government, states, educators, and organizations have been pushing a resurgence through, addressing many of the roadblocks facing these organizations.
Click here for full story
An Uber model for manufacturing is ready to upend the industry
Companies, entrepreneurs, and inventors can rent time on nearby equipment, be it CNC milling machines, water jets, or laser cutters. 
3 Ways Technology is Helping the Construction Industry
With advances in autonomous vehicles, drones and 3-D-printer-created machinery, the construction industry is taking notice. Click here for details
EDUCATION
Training Students to Outpace Automation
As more jobs become automated, companies are looking for employees who can essentially manage the machines doing the work. Click here for details
OUR PROGRAMS
4 Ways GBCTechtraining Can Help You Land Your Dream Job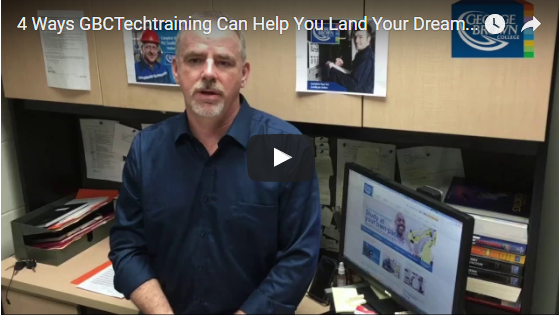 We know that looking for a job is tough and very stressful, particularly if you can`t meet 100% of the technical knowledge and required skills an employer is using as a criteria for a job that you know you can do and that you really want. Read More
Tips & Interview Questions that will Help You Prepare for Your Next Technical Job Interview
Before you head off to your interview, it's important for you to do your homework. I know, you wouldn't have applied for the job if you didn't think you are qualified for it but knowing you are prepared for the first or second meeting with your potential employer will create confidence and improve your odds of getting the job. Read More
 STUDENT SUCCESS STORY
Name: Scott Foltz
Program: PLC Technician

Scott Foltz, Maintenance Facilitator, is a lead mechanic with a national promotional products manufacturer. His decision to enroll in the PLC Technician program was based on several positive recommendations from maintenance forums and also the flexible format which allowed him to work at his own pace. "I really enjoyed the fact I could grab my laptop and jump on the program when I had a few spare minutes. Working as I do makes it difficult to devote a large block of time to studies."
"My employer has been very supportive by providing tuition reimbursement and giving me the opportunity to apply my new skills. If you don't use it you lose it."