September Tech Bytes
INDUSTRY NEWS
Holy mackerel! This robot makes Sushi!
A robot that can handle the delicate touch required to make sushi is, well, pretty cool.
Study: Global Facility Management Market Estimated To Be $1.12 Trillion
"The most compelling visions of the future include smart buildings and cities that require smart professionals to run them," Click here for details
August robotics fundings & acquisitions
August was another big month for funding robotic startups. 18 deals. Almost $430 million (bringing the year-to-date total well over $1 billion)! Plus another $1 billion paid in August for four acquisitions. Click here for details
EDUCATION
House Passes Bill Strengthening Technical Education
The House of Representatives voted to approve an overhaul of key workforce development legislation geared toward closing the national skills gap. .. "Educational success is … about preparing students for a satisfying life and teaching them the quantifiable skills that employers need in their employees."  Click here for details
Telepresence Robots Help Sick Students Maintain Social, Academic Ties
First-of-its-kind study finds telepresence robots help chronically-ill, home-bound students feel more socially connected with their peers and more involved academically. Click here for details
OUR PROGRAMS
New Version of PLC Technician Program
George Brown College is pleased to announce the release of a new version of the computer-based curriculum for the Programmable Logic Controller (PLC) Technician Certificate Program. The new version of PLC Technician integrates a new simulator, PLCLogix 500 within the course curriculum and is used throughout to teach and experiment with the fundamentals of RSLogix 500 ladder logic programming, using file-based addressing.
PLCLogix 500 provides ten interactive 3D environments or "3DWorlds" which emulate a wide range of manufacturing and service applications. The integration of the ladder logic programs with the 3DWorlds provides a unique opportunity for programming in real-time and observing the operation of complex control devices and systems. These 3DWorlds simulate process control operations for the following applications: Batch Mixing, Bottling Line, Dual-Compressor, Elevator, Moving Car Wash, Silo, Single-Compressor, Stationary Car Wash, Traffic Lights and Warehouse Door. In addition the simulator also has basic I/O chassis containing switches, sliders, displays and output indicators. Learn more about the program
SUCCESS STORIES
Name: David Cataneo
Program: PLC Technician II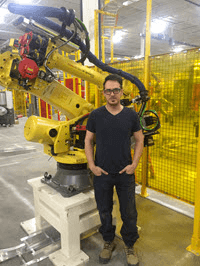 David Cataneo is a Project Manager at an electrical services company. He enrolled in the PLC Technician II program "to develop my skills and help ensure I can manage all aspects of any project." The flexibility of the programs' format was particularly important to David. "I liked the fact I could study from home as I do not have time to travel to and from school with a young family."
David has seen immediate benefits from the program. "I have applied my new knowledge of PLCs in various situations, for example where I have been asked to complete the wiring installation of a project that included PLC Control System components."